I'm passionate (PASSIONATE!) about using Christmas and Easter to lead our kids to Jesus. I think these bright-and-shiny, larger-than-life holidays are the perfect platforms to make Jesus the center of  life and conversation.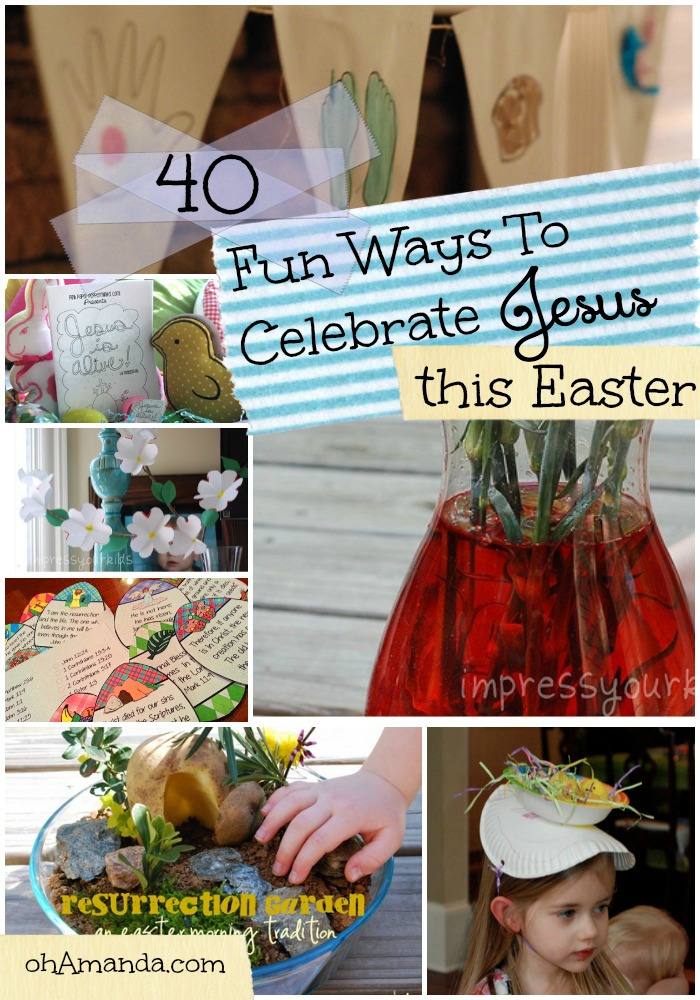 I've written extensively about both of these holidays and written some ebook devotionals to match (see Truth in the Tinsel and Sense of the Resurrection) so I thought it would be fun for me and easy for you to have all my favorite FAVORITE celebrate-Jesus-on-Easter (or as I like to call it, Resurrection Day) ideas all in one big spot. These aren't just my ideas—I added lots of other ideas I've used or admired through the years. And there are great resources (books, movies, music, etc.) included here, too.
Go ahead! Peruse and enjoy!
1. Do the 12 fun activities from A Sense of the Resurrection: An Easter Experience for Families!
2. Make a Resurrection Garden on Good Friday.
3. Give an unEaster Basket to your kids.
4. Read Benjamin's Box.
5. Do the Spotless Lamb science experiment.
6. Make (and eat) some yummy Resurrection Rolls.
7. Have an Salvation Art Show at home.
8. Make a paper dogwood & tell the legend of the dogwood.
9. Read Easter, Easter Almost Here! before Palm Sunday.
10. Make some Palm Sunday palm branches and have a dance party!
11. Sing Yancy's 123 Jesus is Alive! (MY FAVORITE SONG EVER.)
12. Read God Gave Us Easter by Lisa Tawn Bergren.
13. Listen to the Sense of the Resurrection playlist on Spotify.
14. Read Miracle Man by John Hendrix.
16. Watch God Rocks' The Rock That Rolled.
17. Eat your way through the Easter story!
18. Print free downloadable Scripture art and hang it on your walls!
19. Read The Easter Robin and make your own robin.
20. Make an empty tomb cake!
21. Have a Spring Party on the first day of Spring!
22. Join in with the Sense of the Resurrection fun! (Have I mentioned this already?)
23. Watch What's in the Bible? Episode 10 to see the best explanation and visual of Jesus' sacrifice for us.
24. Read the Jesus Storybook Bible. Like all of it.
25. Wear a reminder around your neck.
26. Listen to Yancy's Hosanna (and the remix) on Palm Sunday.
27.  Have a neighborhood party!
29. Read Easter in the Garden.
30. Memorize Scripture.
31. Read Bunny's First Spring by Sally Lloyd Jones.
32. Do a kid-friendly Passover seder.
33. Talk about the crucifixion.
34. Read The Parable of the Lily by Liz Curtis Higgs and make a Handprint Lily to go with it!
35. Lead your kids in a romp!
36. Color a mini egg book.
37. Make your own Resurrection Eggs.
39. Watch The Jesus Movie. (If you did Truth in the Tinsel, you can review the Christmas story because this one begins with the announcement of Jesus' birth!)
40. Decorate your house with some Sense of the Resurrection flags!
I'd love to know how you're celebrating Jesus' death and resurrection this year! Leave a comment or visit me on Facebook or Instagram. If you join the Sense of the Resurrection fun, make sure to tag me and use the hashtag #SenseoftheResurrection so we can all join in the fun!
Affiliate links included. When you purchase anything via these links, I make a small commission. Very small. But very appreciated. Thanks for loving ohAmanda!