My Lydia is 8 and we celebrated with an American Girl Doll party! You might remember that Lydia saved her money for three years to buy an American Girl doll. And after she brought Rebecca home, she has been head-over-heels in love with her. Rebecca and the rest of the American Girls are as familiar to us as family! Of course it helps we have the American Girl Doll store in Atlanta.
Anywhoo, this party was her first all-girl party and our basic plan was to play. We wanted a space to just play with the dolls, fix their hair, change their clothes and pretend with them. So, that's what we did.
I moved the dining room table out of our dining room, added a backdrop (our awesome puppet stage with Lydia's shower curtain on it–the same thing we used for my sister-in-law's bridal shower!) with some ribbons and doll clothes clipped to it and then displayed Lydia's American Girl dolls supplies—her wardrobe (her birthday present from Asa), the suitcase she keeps the doll clothes in and her horse.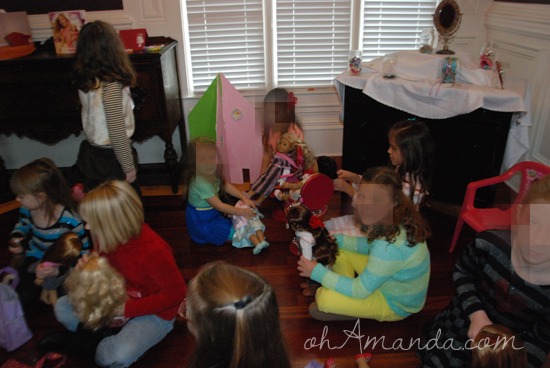 My niece let us borrow her beauty parlor chairs and my mom brought Kirsten complete with winter clothes and snow shoes. I also bought some water bottles, brushes and ribbons so the girls could do the dolls' hair.
When the girls arrived (after signing the guest book), they played and played and played. At one point, they were so quiet and intent I said, "Are they having fun? They are so quiet!" But they were just totally into it!
We also had a station set up in the kitchen for "Kaya's Friendship Bracelets". These were actually beads I bought for Asa's Camping Party and never used. (SCORE!) So, we made girl-sized bracelets and doll-sized bracelets.
The most fun(ny) part of the day was "Rebecca's Movie Star Photo Booth". I set it up just like Asa's Ace Party photo booth–two pieces of our totally-worth-every-penny puppet stage, my video camera on a tripod (which I couldn't find so used a piece of furniture) and a few crazy props. The girls absolutely loved it. They were so crazy and cute.
My favorite prop was, of course, the American Girl doll box I made. That does look like an American Girl doll box, right? RIGHT?!
You know I don't get into big goody bags at parties. But I do like for the kids to walk away with something cool (like, I dunno, an airplane? Or a puppet?). At this party, we made "Kirsten's Winter Blankets". We bought fleece (50% off after Christmas! Woot!) and cut them in the right size to do the knotted-no-sew fleece blanket thing! Genius, right?!
I was surprised at how into it the girls were. And then they walked away with a swanky little blanket for their doll!
Now. Usually, my favorite detail of a party is the food. This time, I wanted sleepover food. I was hoping for a best-friend, all-girl vibe. So, I did chocolate chip cookies, PB&J, pizza sticks and cheese and crackers. But what made it fun was we made girl-sized food and doll-sized food.
Teeny tiny chocolate chip cookies to match the regular sized ones, small sandwiches to match the big ones! And for the cake? Mini cupcakes with regular sized cupcakes to match!  Oh, and they had these cute stickers as the cupcake topper!
I even had mini plates and dixie cups for the dolls. I don't think the girls actually made plates for their dolls. But it was cute, anyway.
The very best part of all was my little baby doll, Lydia. She had such a fun time with each of her friends. She was a good hostess and excited about all her gifts. I cannot believe she is eight years old! Happy Birthday, sweet girl!