When Lydia started Kindgergarten, her school gave me a little booklet with tips for homeschooling, organizational ideas and Scripture prayer prompts. The prayer prompts were taken from Moms in Prayer and our school even had a Moms in Prayer Group that met each Friday morning. Well, Friday is our homeschool day, so I wasn't going to bring both kids back to school an additional day for a prayer group!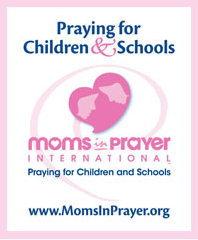 Last year, I started thinking, "Maybe I should start a prayer group for the families that go to school our session." (Our school is essentially two schools–one going 2 days a week, the other session goes 2 different days) But if I started the prayer group then, I WOULD HAVE TO BE IN CHARGE. I did not want to do that.
In these last two years I've read so many prayer books and even had this great idea to start an email chain with all the moms from Lydia's class so we could pray for each kid in the class every week. (Which I didn't do. See all-caps above.) So, I was overjoyed to see on the first day of school someone started a prayer group for our session!
I emailed the leader to make sure I could bring a full-of-energy 4 year old named Asa. Then I hemmed and hawed and didn't go last week.
Well, today, after Asa sat in the kids' room coloring and eating lunch at the gym, I said, "I can't go the gym five days a week and then not make time to go to a prayer group once a week." I felt like Asa was seeing me work out my body more than my spirit. So, right before carpool, we ran to the chapel for the Moms in Prayer Group.
There were only 6 mamas in attendance with kids ranging from preschool to 10th grade. After they introduced themselves they asked me what grade my daughter was in.
"Second.", I answered.
"Second? Last week prayed that God would send us a second grade mom!"
Seriously.
Is that the craziest thing you've ever heard?
Then, right in the middle of asking for prayer requests I got a text from Jen about her friend who's 2 month old daughter died today. (Ugh. Can you even believe it?) So, I said, "I know this is a friend-of-a-friend thing, but can we pray for her?" I'd say every single person in the room had tears in their eyes. Six mamas in another state were lifting up that grieving mom today. Because a second grade mom they prayed into the group decided to show up.
Isn't that crazy?
I don't consider myself spiritually gifted in prayer. I'm not a prayer warrior by nature. But in the past few years, I've discovered something—God is moved by our prayers. Our little words and flitting thoughts that spill out of our mouths–be they eloquent or not, partner with God. I don't understand it. I don't get why God would care what I say, or encourage me to pray to Him. It almost doesn't make sense.
But it's how God works. He allows us to be a conduit of His power and love.
From what I can tell, the group follows a schedule laid out by Moms in Prayer International. It was really organized, simple and not overwhelming if you're not a big pray-out-loud person. It's not just for homeschoolers or Christian school kids. They have groups for every type of family and school out there! You can search for a group here and maybe if you don't mind being the one in charge, start one yourself.
I'm excited to see where this weekly prayer goes: what relationships are built and prayers answered. I'm also excited for Asa to see me put a priority on prayer. Plus, I can pick Lydia up an extra 10 minutes early and miss carpool. *grin*
Do you have a Moms In Prayer group at your school? Would you consider starting one? Has God ever answered one of your simple little prayers?