The last few years I've tried to celebrate all the egg-bunny-basket stuff of Easter on the first day of Spring. This year I was out of town and never got around to having a Spring Party. So, I decided to do something different with our "Easter Baskets". I've seen this from a few other smart mamas and tried to adapt them for us. We did this yesterday to help kick off our Resurrection Day celebrations.
So, here are the TEN THINGS WE PUT IN THE KIDS' EASTER BASKETS
1. Rocks
First the kids went outside and collected rocks in their Easter Baskets. They definitely thought this was weird. When we came inside we laid out all our rocks and I read Ezekiel 36:26 and talked about how when we sin, it's like big rocks in our heart! Then we talked about sins we struggle with (whining, complaining, being selfish, etc.) and I wrote them with a Sharpie on the rocks.
2.  Red Cloth

Then we brought out a piece of red cloth (it was really Lydia's Snow White cape) and talked about how Jesus died on the cross and shed his red blood for all our stony rocky sins. 1 Peter 2:24 is a great one to read here, ""He himself bore our sins" in his body on the cross, so that we might die to sins and live for righteousness". Then we laid the cape over the baskets.
3. Prayer
We joined hands and I prayed that God would remind us of His sacrifice and that His blood can take away all of our sins. I had the kids repeat me. And it was sweet!
When their Daddy got home, we told him all about our rock hunt, the sin rocks and the robe. Then we ran downstairs to show him the baskets. But when we got downstairs, a new basket greeted them! A basket with Jesus' name on it—and full of THEIR ROCKS. Their baskets were still covered with the red cloth and when they pulled it off they were greeted with GIFTS to help them grow in the Lord and to remind them of His great gift to them…
4. Necklace
I got Lydia a pretty pink cross necklace. She loves jewelry and since we've been talking about the cross so much, I think it will be a constant reminder of the story. I love Katie's idea of giving jewelry on Easter (scroll down, it's at the bottom!)

5. Benjamin's Box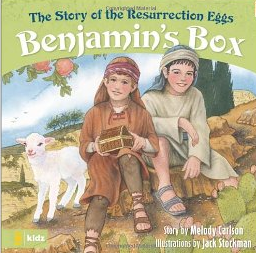 Leigh posted about this story last year and I've always wanted it. We read it last night and the kids were mesmerized by it! It was really very good! And can easily be coupled with Resurrection Eggs if you want.
I bought the first album of
Adventures in Odyssey for Lydia a few years ago. She loves listening to Odyssey and I have to admit–I love it, too. I think the themes may be the tiniest bit too old for her (school themes, peer pressure, etc.). But I want to collect them all so that when she is the target age, we'll have lots to choose from!

7. Veggie Tales Garden
I saw these on facebook the other day and knew I wanted to get them for the kids. They LOVE planting anything! I told them it was a reminder to plant God's Words in their hearts and to grow in Him. (They are available at Home Depot and Kmart—but my Home Depot didn't have them!)
8. Psalty
I bought the kids Psalty #8 which is a baseball theme. Since my husband is a big Braves fan the kids will love this one!
9.The Jesus Movie: Read and Share DVD Bible
I've seen a few good reviews on this book and wanted to check it out.  This is a full-length movie about the death and resurrection of Jesus.
10. Larry Watch
Asa wanted a watch. This one is Larry. I couldn't resist! 🙂
So, that's how we did our "Easter" baskets! I liked it! It was fun and from the look on Lydia's face, they seemed to feel the significance of it. Oh, and don't worry, I've still got a chocolate lamb on the way for both of them. (OK, and one for me, too!)
 See our 2017 unEaster baskets,  2016 unEaster baskets and part A, my son's 2015 basket, 2014 unEaster baskets, 2013 unEaster baskets & our printable Scripture cards for your Easter Basket!