We did something we've never done before. We bought our Christmas tree the day before Thanksgiving! What in the world? I think it's because of the late Thanksgiving (Truth in the Tinsel is Sunday!!). Anywhoo. Not only did we get a tree for our house, I've already decorated a tree for my husband's CrossFit gym.
When I was at Allume, I saw a booth decorated with Christmas trees and ornaments. Given my love for all things Christmas, I peeked over the table and said, "I want to talk to you!" And I'm so glad I did!
 Ornaments 4 Orphans sells beautiful Christmas items hand-crafted in impoverished communities, then uses the proceeds to enrich the lives of orphaned and vulnerable children. What's cool is that the artisans who make the ornaments are then able to prevent orphans in their own families because they now have a job that can support and sustain them!
So here's what you do. Any church, ministry, retail store, organization or school can sign up to receive a box of 100 (or more) ornaments from Ornaments 4 Orphans. Then, you simply decorate your Christmas tree with the ornaments. Allow your customers, friends or anyone that walks by to purchase an ornament for a suggested donation of $10. All the money goes straight to Ornaments 4 Orphans! If you don't sell them all, just box them back up and ship them back. They'll even send you a Square so you can accept credit cards.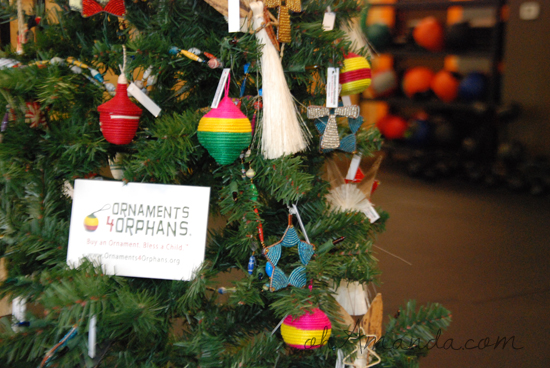 Isn't that cool? You get a gorgeous tree that will be losing ornaments as the Christmas season goes on–but families will be gaining with your purchase! These are perfect for all those little gifts you need to buy but don't know what to get–give coaches, Sunday School teachers, small group leaders, the carpool ladies or anyone an ornament that blesses a child! How could they not love it?!
You can also purchase individual ornaments from the website. But if you are someone who is (or could be) in charge of a Christmas tree somewhere, I highly encourage you to do an Ornaments 4 Orphans tree!
This is my new favorite Christmas idea. I hope some of you get to do it, too.
Buy an ornament, bless a child!