I am so excited to share this special guest post from…MY MOM! My mom, Cindy Hunnicutt has been a Children's Pastor for almost 30 years, she's a creative crafter, writer and dramatist. She's also a fun mom, grandmother and friend! Today she's going to share about her philosophy on "Cousin Camp" or as they call it, Camp Primo!
Oh my goodness. I didn't know that this would be my favorite season of life so far. No one let me in on the best-kept secret of life. No, it's not my high school years or even my twenties. And it sure doesn't have to do with my age which is sliding up pretty high all of the sudden! This special season has to do with some little bitty babies, growing up into toddler years, preschool and older. They're not even my own children and yet they cause me such joy and excitement. I'm smiling broadly as I even type these words because I'm thinking of the little people I could spend every available moment with (maybe excluding 6:30-7:30 a.m. if possible!) Who are these delightful little creatures? Why, grand-children, of course! They're the ones who put "grand" into the phase after that deplorable sounding one: "empty-nest." Not my fave so far– but what came after empty-nest would have helped me sail right through the afore-mentioned phase if someone had just told me about the frosting these grandkids would apply to my "life cake."
One of the most fun, highly anticipated events planned by PaPa and Grandmama (that's my husband and me– we'll stoop to any syllables strung together by these precious things called grandchildren just to hear them say our names!) for our grandchildren is our annual event called Camp Primo. This is our camp with the tag: where cousins put Jesus first.

Camp Primo 2010
We began with two little female campers, amazingly only 18 months and 3 years old at our first camp. They seemed grown up at the time, but when we think back about it, that seems pretty little to be going to a 3 day, 2 night camp– even with your grandparents!
We structure our "camp" to seem like we are at a real camp. We have a theme song, camp t-shirts and a daily schedule that includes Bible Time, Activity Awards, Cabin Time, Kick Back Time and more. Our campers receive a packing list and registration form which they must bring back, signed in their own hand. They also wear their camp t-shirts upon arrival at Grandmama's and Papa's.

Camp Primo 2010
Our first year when the campers were so young, we cleared out our living room, set up a tent and had Camp Primo's home base at home! We went on field trips and did lots of activities, but it was still easy to take naps, go potty, change diapers and not get too over-extended. However, after that first year, we began searching out new and interesting places. We desire to give our campers opportunities to explore God's world with each other and with Grandmama and Papa. We are intentionally creating memories that only Camp Primo "campers" and "directors" will have together. We've tent-camped at Stone Mountain Park, stayed in a KOA Kamping Kabin in North Georgia and rented a two-bedroom cottage at Amicolala Falls State Park. This year, we welcomed our newest camper– and he's a boy! And he was only 21 months old! He added lots of fun and excitement as our camp increased in size.

Camp Primo 2008
Here are some of the kinds of activities we do:
Bible time– we choose a Bible story and Scripture verse to focus on that we can utilize during our regular activities as well. This year our theme Scripture was Proverbs 6: 6  You people who don't want to work, think about the ant!  Consider its ways and be wise! We played a Memory Verse game in which "ants" had laid down a trail of words that campers had to find. We learned motions to the verse so we could begin to hide it in our hearts. We played table games with our verse, we looked at pictures of ants to see how hard they work, we stayed up late and watched A Bug's Life, we went on a scavenger hunt for ant hills and we were excited every time we saw an ant! Not only did we reinforce the Bible truths we learned about working hard like the ant, but we helped to cast out fear and trepidation about ants and other bugs and insects. We want our grandchildren to love God's creation and not fear it.

Camp Primo 2008
Cabin Time is a "free time" for our campers to play with a toy or game they brought from home. This is just usually once during the day and usually just during the time that it takes both Grandmama and Papa to cook, clean or set up the next activity. We also involve the kids in those chores– but you know there is that point when the kids just aren't being that helpful and spending a few minutes in free play is a pretty good idea. The kids love Cabin Time.

Camp Primo "Kick Back" 2010
Kick Back Time is our favorite– even for the campers. This is the proverbial "rest hour" only we all do it together. The campers, the directors and the toddler camper all kick back at the same time, in the same room if possible. We start with reading stories or quiet talking and giggling. Soon, the activities of the day start to creep over us and we are all asleep. We have never had a problem getting our campers involved in Kick Back– and it is a needed part of the camp schedule for campers and directors alike (whew…Grandmama could definitely tell her need for Kick Back time with 3 campers!)
Our Activity Awards have included:
~Pet Care– we brought our dog last year and the campers had to feed her, walk her, brush her and more. They were not too happy when they found out Charmin would not be an honorary camper this summer!
~Hiking– we made walking sticks and went on different kinds of hikes around the campsite as we learned hiking safety
~Crafts– we love to make crafts of any kind and make a variety of them every year!
~Nature Scavenger Hunt– this year it was all about the ants!
~Creek Stomping– this was a new one due to our cottage backing up to a creek. We explored, collected flat rocks to skip, saw a snake, took pictures of flowers, got glass bowls and explored the bottom of the creek, we shampooed our hair and played for hours.

Camp Primo Mascot, Charmin 2009
We plan our activities according to our site so there is no end of possibilities.
At the end of camp, our campers are awarded badges for the Bible and Award Activities. They are presented at our Parent Program when moms and dads pick up their campers at Grandmama's and Papa's house. Our campers put on a program which includes fun features such as:
~singing our camp theme song
~presenting our parents with a gift. This year we decorated pots and planted flowers. We used sticks we had collected to add a creative touch to the planting.
~a slide show to give parents a peek into our camp fun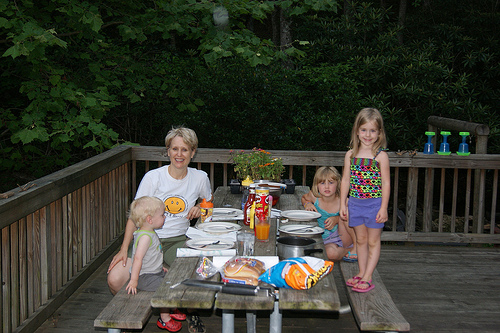 Camp Primo 2010
Of course, "camp" and "badges" and "theme songs" and Camp Primo itself is just a tool in the means to an end. The tool is a fun, exclusive experience that our grandchildren can only have with this exact set of grandparents and cousins. We covet the gift that God has given us in our grandchildren **tears in my eyes** and are grateful that our children and their spouses give us such access to their children. We are now beginning to tell our older granddaughters (ages 4 and 6) that when they get big and are moms, we will probably be taking them to Camp Primo on an airplane! I don't even really know what I am talking about, but the point is, we are creating a special space in their lives that will not end just because they have graduated from high school or have gotten married. We hope with God's help that we will be able to speak into their lives, supporting their parents' philosophy and desires in raising their children as we strengthen the bond and love between us and our grandchildren. We see our three little ones as a precious gift from God who elevate us to the title of "grand" whenever they call our names, run to give us hugs or kisses or just by the expression of excitement on their faces when they see us.
So… my mind is already swirling about next year's Camp Primo– but first, Camp Primo, the Winter Wonderland Retreat. We can't wait a whole year!