I've been wanting to teach Lydia to read. I know, she's only 3 years old. But she loves books! She knows her letters and sounds (mostly), she even knows the alphabet in sign-language. Actually, I think she recognizes the signs quicker than the written letters! (Thank you, Signing Time!)
So, I randomly picked up a Strawberry Shortcake phonics book I found at TJMaxx. (Seriously, I did. This isn't a commercial.) Lydia LOVES it. The first time we looked at it she wanted to do it for like an hour. She also has a Kumon
book that my aunt gave her at Christmas. I had to tear it out of her hands yesterday. She wanted to do every single page at once. And it's only a coloring/pencil-holding book!
I've been thinking about buying some other kind of workbook things to help her with the next step in reading…uh, well, I don't really know WHAT the next step is in reading, but I think she'd like it! So, a few weeks ago, JumpStart emailed me to try out their new website for kids. I was totally excited because I wanted to see their approach and ideas for teaching kids Lydia's age.
So, we tried it out. First of all, Lydia LOVES computer games. We are on Playhouse Disney, PBSkids and Starfall all the time. I'm kind of in the camp that yeah, I don't want Lydia to be addicted to tvs and computers—but at the same time, this is our world. She needs to know how to use a computer. Why not use the computer to learn to read?
So, here's our JumpStart adventure:
First I had an install problem. Well, really it was just a browser problem. Aparently JumpStart doesn't like Firefox. *gasp* So, I powered up Safari and it worked right away. The first thing Lydia got to do was make her own character. Her character is dressed in pink with a pink flower in her hair. And her name? Lily Azul Noodle. Awesome, right? It was all very SecondLife-ish.
Before Lily Azul got to play any games, Frankie the JumpStart dog gave us complete and total details about what to do and where to go. Seriously, he was a great tour guide. He showed us a giant map which included Adventure Land, Story Land, an arcade and even a movie house.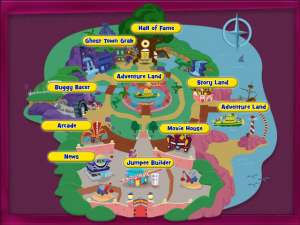 Well, apparently Lydia and I didn't listen to ol' Frankie because we ended up at the arcade. Which was entirely too hard for me Lydia. We wandered around a few more worlds and were unsuccessful in doing anything remotely like fun. I think it has to do with the fact that I have not been able to maneuver an actual video game since my original Nintendo in 6th grade. All of JumpStart-world is 3D. So Lily Azul can move everywhere. Just the moving in and out of the lands was a game to Lydia. And a workout to me! We really had to do this part together. It was hard for her to understand how to move the character around.
We finally stumbled into StoryLand which is deesigned just for kids 3-5 years old. And this is where it got fun. Our first stop was at the Pet Shop. Lydia got to choose her own pet. She picked a kitty named Princess. (Suprised?) Then Princess followed her…I mean, Lily Azul around the world. They found a field where they could play ball. And suddenly, Princess looked a little dirty. And indeed she was! So, Lydia took her to the Pet Wash. Here she got to pick special soap and brushes to fix up her kitty.
I think we stayed in the pet wash for about thirty minutes. Lydia used every single kind of shampoo. She tried all the brushes. Then it was time to eat at the Pet Restaruant. Princess got to try all kinds of food…but if it wasn't kitty food, she wouldn't eat it. So, Lydia had to figure out what kind of food a kitty would like.
This was more the kind of games in StoryLand. It wasn't the ABC-reading stuff I was hoping. It was more problem solving, decision making. But if Lydia's response to the games was any indication…the JumpStart people probably know a little more about kids' learning styles than I do! In fact, according to the website, the skills being taught are based on National Education Standards which means it lines up exactly with what is being taught in schools. Cool, huh?
Every single day for a week, when Lydia would get up from her nap she'd say, "Can I play my computer game?" And she'd go straight to the Pet Shop to get her pet. Then go through the pet wash-restaurant-ball games until I finally made her turn it off.
It is a fun place to play. I don't think the actual games were any cooler than the other online games we play. But the whole world—with the 3d map and the ability to move from world to world is cool. JumpStart's website also has a blog and forums for parents with fun activities and news about JumpStart. And if you're an older kid and can actually move a 3D character around a 3D world, there is TONS of fun stuff to do. You can earn coins to buy special stuff for your avatar/character/thingie. The games are much more ABC-123 and seem really fun. The coolest part to me was that it seemed never-ending. It wasn't like a little short 5 minute game. It was literally a WORLD to hang out in and do fun stuff!
JumpStart has generously offered a FREE three month subscription (which is like a $25 value) to the site for one of my beautiful readers! This wouldWould you and your kids like to try it out? If so, you MUST leave me a comment. Any comment will do, but comments that sound like you read my post are appreciated.

If you'd like an additional entry:
1. TWEET this contest (feel free to use @oohamanda in your tweet).
2. Post on your very own blog/facebook/myspace/tumblr about how ohAmanda makes you want to START JUMPing for joy. Or something equally awesome.
3. Subscribe (or be a subscriber) to my blog.
Just leave me a comment for EACH of the above items you do.
Thanks, JumpStart for all the fun! And don't forget you can still play the free limited version of JumpStart online anytime!


{{my bloggy manifiesto aka disclosure-ish policy, in case you're interested or irritated by this post}}