A few of my favorite things start with the letter C.  Chocolate, cookies, chocolate, cake, caramel, cocoa, candy, chocolate, chips…
Here are a couple more that start with C, too.
I did the clip art again.  I keep coming back to this because I can pick the pictures and words I want to use, instead of ones others chose for me.  And I made it fun again…
Glue!  EJ was so excited about this.  He kept asking for more C words… "What's next?"  I went with the glue stick to keep my nerves calm.
Our verse for the week was picked out by Daddy.  I was thinking about "Let the little children come to me," or sticking with the first part of last week's verse, "Children, obey your parents…" (we still need a lot of work on that one).  But as I mentioned it last night, my husband recommended this one.  Perfect. Lots of C's, easy to repeat, and several important lessons to learn about God and our relationship with Him – all rolled into one verse!
While the glue was out, we made a collage.  I was thinking about another C-thing collage, but we're heading to the beach on Thursday with EJ's cousins (the adorable girls in the top right picture in the collage).  We started talking about the beach during B week last week, and I thought we could continue with that.  He got to use his glue stick and the scissors.  He was thoroughly enjoying himself today.
We talked through what was going on the collage as we picked out pictures from some of my summer magazines.  And we picked out some C words, too.  EJ actually picked out the corn and the chocolate chip cookie.  Both may definitely make an appearance at the beach.  And of course, the cousins' picture made it into the collage, too.
And for a snack… chocolate chunk muffins!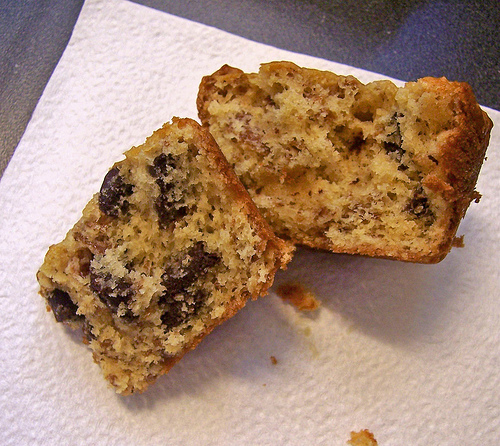 —————————————————————
* How many of you started singing "C is for Cookie" when you read this?  It's been running through my head all day…