It's a quiet day here. Well, quiet if you don't count the dog who insists on barking every single time I sit down to write. (I am not joking. He's whining at the door now.) It's our last day of Spring Break and the kids are with Grandmama today!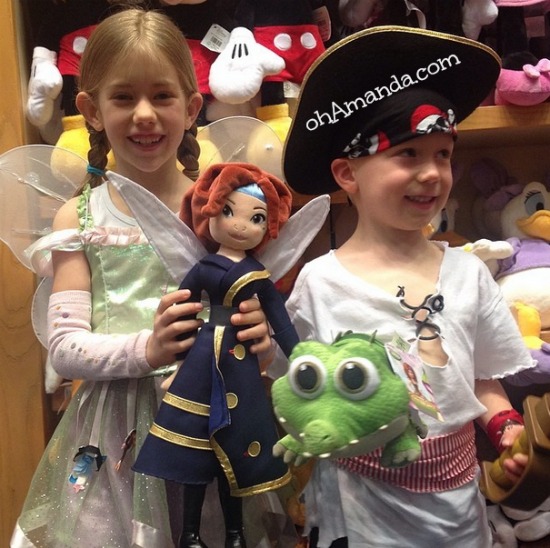 We kicked off Spring Break a little early by surprising the kids with a pre-screening of the new Tinkerbell movie, The Pirate Fairy! Usually I don't get into direct-to-DVD movies because honestly, most of them are just terrible. Return of Jafar, anyone?
However, I have loved the whole Disney Fairies franchise! The movies are exciting, have great animation, are age-appropriate and all around totally entertaining. This is the 5th movie for Tink and even though there have been some plot holes (especially if you read the Disney Fairy books that came out before the movies) and I was a little leery of a pirate fairy because hello, could we capitalize on pop culture a little more–I still loved the movie.
(Big surprise, right?)
Because we love Tink so much around here and because there were some really good talking points and because I love copying great ideas from my friend Heather, I wrote a Family Discussion Guide for the Pirate Fairy movie! If this movie happens to grace your DVD or Blu Ray player soon, here are a few questions that can make some God-centered conversations start in your home.
First off, here's a little description of the movie:
Zarina is a dust talent fairy who seems part-Tinker because she loves experimenting with Pixie Dust. This is a big no-no as Pixie Dust is the life-blood (and the key ingredient to flying!) in Pixie Hollow. Zarina accidentally has a piece of the special blue pixie dust come home with her and begins to use it in her experiments–with great success. And a few mishaps, too–one of which is a giant vine which takes over Pixie Hollow. This results in her being fired from her job as a Dust-Talent-Fairy. (If you aren't getting any of this, you should probably go see the first Tinkerbell movie!)
Zarina is so mad she runs away from Pixie Hollow and years later comes back to bring revenge on her fellow fairies–and steal the rest of the blue pixie dust. Why? So she can make her new pirate ship fly! That's right, she's the captain of her own pirate ship.
Tink and her faithful five follow Zarina to get the blue pixie dust back where it belongs. Along the way, their talents are mixed up, Zarina discovers her pirate crew were only using her for the blue dust and much swash-buckling excitement ensues. Of course, in the end, the fairies are victorious, Zarina comes back to Pixie Hollow and the pirate crew is dismantled—(well, all except one tall, lanky, dark-haired pirate named James…).
There is definitely some pirate fights but besides that, I cannot think of anything else in the movie that caused me to raise an eyebrow. See my other movie reviews to see how I tend to pick stuff apart…
So, a few big ideas to talk about…
1. Perseverance
Perseverance means doing something even when it's tough. When Tinkerbell and her friends left to follow Zarina, Klank stayed with the rest of Pixie Hollow to make sure the Winter Fairies remained cold. We don't see Klank again until the very end of the movie where he is faithfully pedaling away on the snow machine.
Would it be hard for you to keep pedaling and miss out on a pirate adventure to keep the Winter fairies safe? When have you had to miss out on something fun in your own life to do something hard?
Read Galatians 6:9. What does this verse tell us about what happens when we persevere?
2. Mercy
When Tink and her friends first meet Zarina by the waterfall, Zarina says she'll give them "quarter" if they give her the blue pixie dust. What does "quarter" mean to a pirate? Quarter means "mercy". What's mercy? Mercy means forgiving someone even though they deserved to be punished.
Tinkerbell and her friends offer Zarina "quarter" even though Zarina had been a thief and traitor. Would you have shown Zarina mercy? Has anyone ever forgiven you, even when you didn't deserve it?
Read Matthew 18:23-34. Which servant do you want to be like? Who does the master remind you of?
3. Forgiveness
When Zarina comes back to Pixie Hollow, Fairy Gary greets her with a big hug. Were you surprised? How did you think he would react when he saw her after all the trouble she caused? How would you have reacted if you were Fairy Gary?
Read Luke 15:11-22. Does anyone in this story remind you of Fairy Gary? Who reminds you of God in this story?
4. Disobedience/Sin
Fairy Gary told Zarina not to play with pixie dust. He told her not to touch the blue pixie dust. What did the blue pixie dust do? It made the gold pixie dust grow and expand, didn't it?
Read James 1:14-15. (It's kind of a serious verse, isn't it?) Instead of allowing sin to grow in our lives (even a teeny tiny sin the size of blue pixie dust) what should we do? Stay away from sin and follow God's direction.
If Zarina had talked to Fairy Gary and asked him for help, maybe the whole thing would have never happened. Instead, she went off on her own and even though the one little drop of pixie dust seemed small, it turned into a huge problem!
This is also where you can talk about the difference between doing what you think is right (Zarina was a talented pixie dust alchemist and experimenting was a good thing) and actually doing what's right (using the blue pixie dust under Fairy Gary's direction or not stealing the blue pixie dust). This is a hard concept and so prevalent in kids' movies and books. It's difficult to navigate, but I think it's important to lay some groundwork of recognizing that the over-used sentiment of "follow your dreams" is not always the best idea.
5. Talents/Giftedness/Helping Others
When the fairies get their talents switched, at first they are all pretty terrible at their new talents. Soon, they begin to help each other and then finally work together to stop the pirates.
You might be good at something your brother isn't good at. How can you help each other and work together?
What if you're not good at something that someone else is? Should you get upset and wish you had that talent? What talent has God given you? How can you use it to help others?
Read any part of 1 Corinthians 12 to continue this conversation.
:: :: ::
Now, don't sit down after the movie and read off every single one of these questions and make your kids look up and read every single Bible verse. Instead, as you watch the movie and one of these scenes jumps out at you, have the conversation as you clean up the popcorn bowls and get your jammies on, or on the way to school the next day, or while you're waiting at the doctor's office. Let these conversations flow naturally from your kids' chatter and interest in the movie. It might be a 2 minute conversation or 20 minutes. And either one is perfect.
Don't force the conversation. Don't preach. Just weave your own knowledge of God's Word and His work in your life as you converse. This is part of that Deuteronomy 6 thing. Talk about God as you walk along the road–even if it takes a pirate fairy for you to find the words.
Oh. And because I can't contain myself: Lydia's Tinkerbell birthday party and Asa's pirate party. Now, I want to combine them!
I attended this movie screening as a member of the media. All thoughts are my own and do not reflect the opinions of the Walt Disney Company. Affiliate links included.