I have a thing for construction paper. I don't know why I like it so much–it's just so easy to use and you can make anything out of it. I guess I just like to cut. (Have you seen my yum yummy birthday cake puzzle or my alphabet letters?)
To help us memorize Proverbs 1:7 for our Whoo's Wise introduction, I decided to make a construction paper owl. I love the little owl in the series graphic and knew I could recreate him!
So, I cut out a big "U" shape from a single piece of construction paper. Then I folded up a piece of paper like a fan and cut out some small "u" shapes. This gave me all the little "feathers". Snip off one triangle from a corner of yellow paper and you've got your beak! Easy peasy lemon squeezy as the kids like to say.
Now, here's the hard part. I thought it would be cute to layer the feathers so they are overlapping. Well, in order to do this you have to write the words on before you glue. So, we wrote each word on one feather. Then, we had to place each feather on starting at the END in order to get them all layered on. Essentially, reading the verse backwards. (Does that make sense?)
It was quite the job. Lydia did pretty good by herself. She had to do a lot of comparing from the actual verse (which was great for memory work!). When she was finished, we realized she did the feathers upside down (like a rainbow, instead of a boat–her words, not mine!).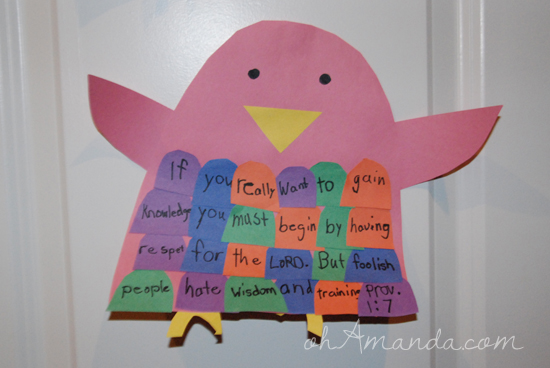 While Asa simply glued them as I gave them to him. 
Even with that, his came out a little out of order. But it's still readable. (And cute!)
While they worked, I tried to create an exact replica of our little Whoo's Wise owl and mine was much simpler! All you have to do is stack two sheets of construction paper together, cut out a smaller "u" for the tummy. Then cut in strips. You'll have two sets of strips now. Use them to alternate colors for a striped tummy that is evenly placed! (Then do the same for the wings!)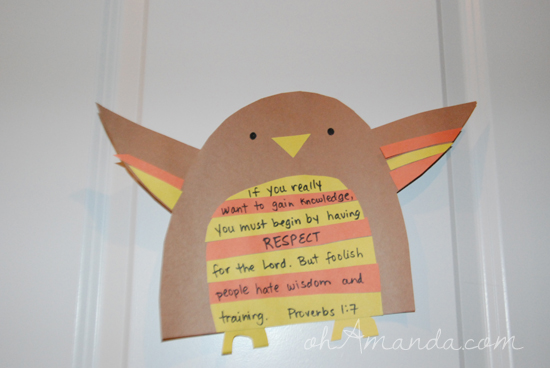 Then you can just write the verse directly on the stripes and not worry about doing it word-by-word. If you're working with little kids, the stripes would be much easier. The small feathers are better for older kids, though. I think Lydia had the verse memorized by the time she was done!
We hung these up in our kitchen so we can read them every time we're in there. When trying to memorize Scripture with kids all you have to do is say it a few times. They'll get it before you do! Simply read it out every time you notice it, have them repeat it after you once or twice. You don't have to make it a big deal. Make it fun and simple!
As we made our owls and read the verse a million times, we talked about what it meant. What does having respect for God mean?
I told the kids other versions of the Bible say "fear of the Lord" instead of respect. They were shocked, "Be afraid of God?!!" I explained that our respect and desire to honor and obey God should be so big and serious it's equal to fear. I was surprised they actually understood that concept.
Lydia is reading a story at school about a kid who has the President visit his school. She said, "That would be so scary!" She recognizes that she's not actually afraid of the President but that she is just respectful of how important he is. It's a similar (not comparing the President to God!) idea of respect=fear.
This verse is still somewhat mysterious as it's simple to say, "Yeah, I respect God. I fear Him. Where's my knowledge? Why aren't I wise?" Well, the verse tells you why—fear of the Lord is just the beginning!
What a reminder to us as parents–this is just the beginning, friends! We get to lead our kids to fear and respect of the Lord. We get to help them choose the wise path to step away from foolishness. Your kids won't be wise after memorizing one verse but you are helping them plant a seed and lead them to a place where they can make wise choices on their own as they grow!
If you make an owl, show it off! Lemme see it on our Facebook page  or on any of your social media outlets with the hashtag #WhoosWise!
ps–I may not get a Whoo's Wise post up next week. I'm going on a super big adventure and just can't promise it will be up. So, hang on if I don't. I won't forget about it! 🙂