Pin It
My sister-in-law is getting married in August.
So this week we went wedding dress shopping (fun!) and bridesmaid dress shopping (not-so-fun). I'd rather do most of my wedding shopping while browsing the internet. So, in honor of my sister-in-law's upcoming wedding (and
a promise I made in 2009
that I'd write this post) here are
THE TOP TEN MOST CREATIVE & COOL WEDDING GUEST BOOKS EVER
Have your guests sign a puzzle piece each, then put it back together, frame it and display. Or keep it un-put-together and let your first child slobber on it!
2. Sign a Chair.
How great is this? A practical guest book you'll actually use and see all the time. I wanna do this for something else–what if you had one at your house and let guests sign it when they came over for dinner or to spend the night?
3. Postcards
Have guests write postcards and then have someone (your parents) mail them to you during your first year of marriage. This one below is especially fun because everyone got a personalized pen!
This isn't a new idea–let everyone write whatever they want (draw a picture, sign their names, make a wish, favorite scripture) but I love this whole stapled-together-make-a-book thing.
5. Fingerprint.
This is my new favorite (and judging by the amount of these on etsy, I'm not the only one!). I love the playfulness of these plus the personal touch it brings. Everyone puts their fingerprint on the tree & signs their name on top!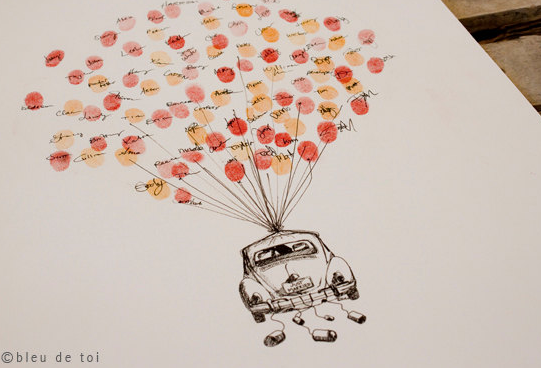 I think I love this car and balloons better. The only thing that would be cuter is if it was a house with balloons like Carl & Ellie's house in UP.
But this one? Is so cute I can't stand it! (Whenever I throw an Art Party for Lydia, I'm going to use this as a guest book!)
Let everyone write a note on a slip of paper and then seal it in the bottle. Open it on your first wedding anniversary to see what they said!
I LOVE THIS ONE. What a sweet thing to keep you connected with your friends and family close to you all year!
8. Mad Lib.
I changed my mind. THIS ONE is my new favorite. How fun in the world would this be?!
9. Typewriter.
For book-lovers. And anyone else who misses typewriters.
This is apparently pretty popular for weddings. Individual cards (sometimes with prompts like "You will name your first child…") and then placed in a box like this. Cute, huh? And easy to replicate on your own.
So, what do you think? Wanna get married or what?!
If you like one of these ideas, please PLEASE visit the original pin or shop before pinning it yourself–I'd much prefer the original folks to get credit for it! If you wanna pin my whole post, feel free to use the graphic (and pin it button) at the top of the post! And don't forget to visit my Wedding Deliciousness Pinterest board for more great guest books & fun wedding ideas!