this giveaway is closed. *sniff* winner will be announced monetarily…but please, feel free to read on…

When my little pirate, Asa was born (4 months ago!) the main thing I was worried about was NOT the late night feedings. It was NOT the crying. Not even the diapers. It was HOW IN THE WORLD WILL I TAKE TWO KIDS TO THE GROCERY STORE?!
I just couldn't imagine taking a newborn and an almost 3 year old into a store and getting them both in a grocery cart. I went through every scenario: baby in carrier in front of cart while 3 year old runs around the store OR baby in carrier in the back of cart with 3 year old in front of cart—but where would the groceries go? Finally I realized, I need a sling!
I'm not a "babywearer" but knew having two kids I was going to need a sling to help me out! Well, I hit all the sites I could think of and then finally made my way to etsy. (Why didn't I go there first?) I stumbled upon Raspberry Baby and I think the name might have hooked me. Or maybe it was the fabrics.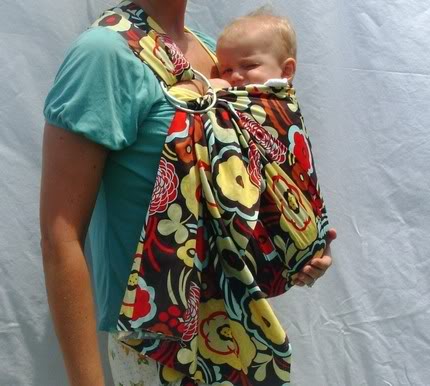 I couldn't decide between all her cute patterns so I settled on the edgy gray ring sling. It goes with everything and I thought maaaayyybeeee my hubby might wear it. (He hasn't.)
And the main thing I like is the way she suggests wearing it…with the tail wrapped around your back and tucked under the baby's bottom. It adds some more support AND it looks super cute.
Anyway, in honor of my pirate, my new life as a sahm to two, the bloggy giveaways, my new favorite thing and uh…the month of January, I asked Raspberry Baby if they'd like to give away a sling. AND THEY SAID YES. (That would have been pretty anti-climactic if they'd said no, huh?)
And not just any sling. They are giving away this ADORABLE "Inspired" sling in black and aqua.
DO YOU LOVE IT?!
It sells for $35 and YOU COULD GET IT FOR FREE!
Now, here's the deal. I get a little antsy (and irritated) at the contests that make you do 50 thousand things to enter. But I really want to honor Raspberry Baby for their generosity, so I'd love for you to visit their site to see all their other cute stuff (like this! or oh, I wish I had this when I was preggo! or omg, do I need this!). So here's the deal…
YOU MUST:
Leave me a comment. If you tell me your babywearing story, I just might be tempted to pick you instead of ramdom-ing a winner. If you compliment me, I really might pick you.
FOR TWO MORE ENTRIES:
Visit Raspberry Baby and look around. Come back here and let me know what caught your eye. (They also sell pouches, wraps and other cute mama-baby stuff!)
FOR THREE MORE ENTRIES:
Tweet this contest OR Stumble this post OR link to this post on your blog OR subscribe to my blog OR get my blog in your inbox OR write a 400 page essay on what OhAmanda means to you.
POTENTIALLY you could be entered 21 times. Am I insane?! Do you know how long this will take me to calcualte?! *whew*
Anyway, if you do any more of this stuff, just leave me an additional comment for each…just one comment is ok, unless you want to be like Dana from Are We There Yet and do my work for me (see below). Which of course, I love. And did I mention I love Dana? Well, I do. A lot. OK, back to the "rules"…yes, all you old current subscribers—leave me an extra comment and you'll qualify for the extra subscriber entries.
OK. If you actually read every word of this post, you might get an extra entry, too. Thanks for sticking with me. Make sure to visit Raspberry Baby! And don't forget to check out the rest of the Bloggy Giveaways, including my Day 1 giveaway–Snow White and Grumpy pendants!