Lent begins this week. Lent is the Easter equivalent of Advent. It's a time of waiting and preparing for the Big Day. Just as a bride prepares for her wedding day, we get to prepare our hearts and minds to think about and celebrate the resurrection of Jesus on Easter Sunday!
Most people give up chocolate or meat or social media during the forty days of Lent so they can focus more clearly on Jesus and his gift to us. It's a simple sacrifice to remember the very real sacrifice of Jesus on the cross.
Like December, Lent somehow gives us the excuse we need to be more purposeful with our discipleship of our kids. We make time for crafts and Bible stories and activities we can't normally fit into our everyday life. I'm excited to do A Sense of the Resurrection  with the kids this season–it's only 12 lessons and we will easily be able to fit them into the next 40 days.
Doing something every single day for 40 days is tough. Even Advent is only 24! You might not have the time to or even want to try getting your kids to do a daily devotion during this Lenten season. So, my suggestion? Simply change up your bedtime story! (And if you think you've outgrown bedtime stories, try again!) Here are some of my favorite books that fit perfectly into forty days of focusing on God:
I got a new book for a review entitled I AM: 40 Reasons to Trust God by Diane Stortz. It is safe to say that I am madly in love with it.
First of all, it is gorgeous–the pictures have a little bit of a Prince of Egypt-feel to them but a little softer and more beautiful.  Each chapter tells a Bible story that focuses on a name of God. Not just a description but an actual name: Elohim, Jehovah Jireh, El Emeth, Jehovah Shammah and when we get to the New Testament: the Bread of Life and Savior.
It ends with a quick applicable devotion, a short prayer, another reference to a Bible story that shows God's name again and a short paragraph that fills in the blanks until the next story begins.
We are eight days into the book and my kids love it. Each night, we read it after dinner while we are still around the table. After reading, I usually have the kids repeat the prayer, regardless of if they are silly or serious. Then, we pull out a piece of paper and markers and make a mini-poster about what we read. I usually write God's Name and the meaning. Then the kids draw a picture of something from the story.
When they are willing and it's not too long, we read the extra story mentioned or listen to a song that I happen to remember (Jehovah Jireh, anyone?).
You don't have to do all that, but you can still read it before bed–what wonderful thoughts to fall asleep to!
Of course, my favorite Bible Storybook, Jesus Storybook Bible by Sally Lloyd Jones also happens to be a great Lenten read—they've got a free printable on their site right now of a reading schedule for Lent. This is perfect because as you read through the famous Bible stories, you're actually reading how they all point to Jesus and His sacrifice for us. Perfect.
Last year, the kids and I also read Amon's Adventure by Arnold Ytreeide. It's a fictional story of a little boy who is in Jerusalem during the days leading up to the crucifixion. Each chapter leaves you on a total cliff-hanger and the story is super exciting. It's not a perfect book and focuses a bit more on the main character than on Jesus, but it's still a great bed-time read for your elementary aged kiddos.
Just as you change over all your regular activities into Christmasy stuff in December, why not change all your normal life into Easter-y things during Lent this year?
Put away your normal bedtime reads and take these up instead! They will only enhance the Sense of the Resurrection activities–which you are totally going to be doing with us, right?!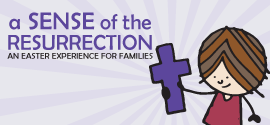 Phil Vischer says Easter should be the church's Super Bowl. Let's celebrate it big and strong this year, ok? Don't get bogged down in doing All The Things for doing-sake. Let's celebrate deep and wide because we want our kids to know the story, nay, the person of Jesus this Easter season!