The verse I picked for Super Speech is Ephesians 4:29. And it's a long one. And even longer in the kids' versions. But I love several parts of it, so we went with it anyway…
Don't let any evil talk come out of your mouths.
Say only what will help to build others up and meet their needs.
Then what you say will help those who listen.
(NIrV)
This version breaks the scripture down into 3 sentences, which is extremely long, yes. But it also clearly shows the three ideas in the passage. I love the first sentence because it is so cut and dry: do not let ANY evil talk come out of your mouth. Period. You could just memorize that section and be good to go!
But the next two sentences are the positive part of this scripture–it tells us to say things that will HELP. My kids know what help means. We talk about helping all the time. Help do the dishes, help your brother with his coat, help Mommy by being quiet, help make lunch, etc. I love this idea of using our words to help. I think this is an easy and obvious connection for kids.
So, today, to help Asa (and Lydia when she gets home from school) learn this SUPER scripture, I grabbed a piece of poster board, some long craft paper (I have this giant roll from Ikea, $5!), red paint and some scissors. I drew some big lips on the poster board and let Asa sponge paint it.
As he was painting, I got my paper roll out and wrote the scripture as long as I could!
After it was dry and cut out, I cut a small slit in the middle of the mouth. Large enough for my paper scripture to fit in.
Then I let Asa pull the scripture out! The more he pulled the farther away he had to walk and the funnier it got! As the words came out of the mouth, I read them and he repeated them. Every time we pulled the paper out, he repeated it again.
The next problem was how to roll it up for future play times. Well, I experimented several ways. I made a paper roll (think toilet paper holder) with a string and a plastic straw. Then taped the paper to the straw. But that got all tangled.
Finally, I taped the end of the paper to a circle of yarn and rolled it around itself. It's not perfect (or pretty), but it works. You wouldn't have to do any of this. You can just pull it back and forth!
Then we experimented with how to display it…
We laid the lips on the floor and walked down the scripture.
We taped it to the door and unrolled it.
We held it up to our faces and pretended they were real lips.
Then I got the bright idea of wedging the mouth in the slats of our incredibly scary-high steps in our "big room". The scripture was even longer than the stairs and Asa thought this was awesome!
He tried to climb up the scripture, he danced around it and basically I had plenty of time to lead him to repeat (at least parts of) the verse several times!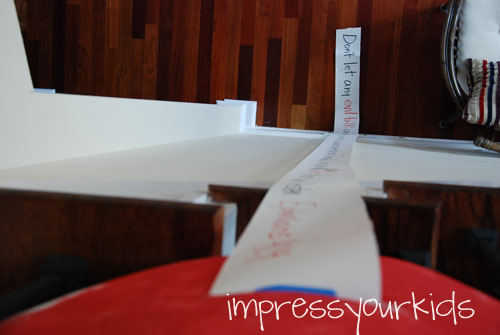 I think I like it on the stairs. It's SUPER long and SUPER hard to miss! I think we'll be saying this verse every time we walk up the stairs. I can't wait for Lydia to get home and see it. She will love it!
And if you don't have long paper or posterboard, you can still make this work! Use a few pieces of paper taped together. Or find some old calculator tape! Make a mini mouth from half a piece of construction paper for the kids to keep in their pockets. The point is to get gets to visualize words coming out of their mouth–we want God's Word, good words, helpful words coming out! Not evil!
I've got one more activity for Super Speech this week and on Friday, I'll post the badges for you to download and print! I can't wait to see all your Super Heroes wearing them!
Have you been working on your SUPER SPEECH this week?