Have you experienced 31 yet? I'm not talking the age. I mean the bags! Thirty-one makes the MOST adorable and USEFUL bags you have ever seen. I have this one: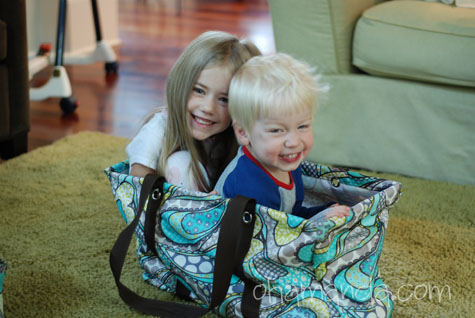 Which is big enough to hold Asa and Lydia in at the same time. I have used it for carting supplies to all the wedding showers lately AND it is the perfect pool bag because four towels actually fit in it! Every single time I take it somewhere I get comments and jealous glares. I also bought these for my sisters-in-law's birthdays–with their names embroidered on them.  They loved them. And I was a tiny bit jealous giving them away. ($30)
I have this bag (which I took to Orange and carried my computer, camera, lipstick, phone, cords, books and numerous other randomness). Just look at all those pockets! ($25):
Source: iheartorganizing.blogspot.com via Tiffany on Pinterest
And the smaller version ($20):
Which Asa thinks is his. Whenever Lydia has a purse he says, "Where's my dot bag? Where's my dot bag?" I usually use it as a diaper-ish bag for when someone else is taking care of him. It fits a sippy cup, a change of clothes and about 14000 things Asa might need.
I also bought Lydia this sweet insulated lunch bag for SCHOOL. *sniff* ($15)
Anywhoo. Thirty-one is like a home-party business. You know, similar to Pampered Chef and Tupperware? And my bff and sisterchick, Staci is a consultant! And we're having a mini-online-catalog party! So, if you wanna buy something for back-to-school, as a gift for YOURSELF or just get your blog name embroidered on a bag (THAT IS TOTALLY WHAT I'M GETTING NEXT) go click around through our party and buy something!
And did I mention EVERYTHING IS 15% OFF this month?! I know. It's awesome.
OK. That's all. Have at it.
Details:
Just click on our party link.
Then click on EVENTS.
Click on my name (Amanda White).
Start shopping!

Remember everything is 15% off EXCEPT personalization.
It will be shipped to ME unless you choose shipping. And if you ship it to me I cannot promise that I will be able to let it go back to you. Especially if you picked a cute pattern. 😉
Disclosure: Thirty-one doesn't know I exist except as a customer. I'm having this party because my sister-in-law from Mexico loved the bag I got her and wanted to buy some more for her very own. I figured I'd share the bag-love with you, too! And yes, like any home party, I'll get some credit or something if/when you buy!