Every once in awhile there's a fun blog party* that asks you to introduce yourself in a blog post. These posts are hard to write. Because, I've already written an About Me page. It's full of all kinds of hogwash information. And every single day I write drivel inspiring posts from my everyday life. So, really, what else is there to say? Well, as a true social media freakazoid, I never lack for things to talk about. I update my every move on the web. Obsessively. So, now, I am going to share 6 randomly selected updates from my twitter stream.
I can feel the anticipation already.
Here we go…
(This is to show you how well-read I am. Also to impress you with my early morning exercise-y-ness.)
(this shows what a great home-manager I am.)
(This was spoken by my 4 year old daughter, Lydia. Asa is my 1 year old.)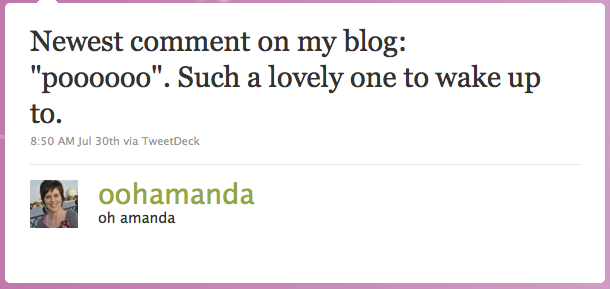 (Makes you wanna stick around if these are the responses I'm getting on my blog, doesn't it?)
And the twitpic…
(You love me already, don't you?)
(And that is me in a nutshell.)
Don't you want to follow me on twitter now?
I'm just as ravishing on Facebook!
And if you get my updates in your feedreader or inbox? You'll never lack for entertainment.
Leave me a comment and I might even tweet about YOU today!
*Today is one of those days: Robin at Pensieve
is hosting a BlogHop for all those folks (like most of the blogosphere)
who are not partying at the big blogging conference, BlogHer this weekend.