Last night we made my most favorite pizza in the whole world. It's so beautiful I just want to stare at it. In fact, Lydia named it the Pretty Princess Pizza. It's a Rachael Ray recipe called The Only Pizza You'll Ever Want Again. And it lives up to it's name.
Rachael makes it with chicken but I think it's better without. And she has some crazy chef-like instructions but I'll give you the easy version…
Ingredients:
pizza crust (I used a whole wheat Boboli because I was at Wal-Mart but a homemade one would be MUCH better.)
broccoli (slightly cooked & chopped into bite-sized pieces)
sun dried tomatoes (bite-sized pieces or strips)
ricotta cheese
garlic (1-2 cloves, chopped/minced and then cooked for a few minutes in a little bit of olive oil)
mozzarella cheese (shredded, about 1 cup)
fresh basil leaves (about 10-12)
Instructions:
1. Make or take crust out of package.
2. Layer garlic, broccoli and sun-dried tomatoes on crust  according to your liking.
3. Scoop a heaping tablespoon of ricotta cheese on one side of the pizza. Repeat about 4 times. (Think the 12, 3, 6, 9 positions on a clock.)
5. Cover with mozzarella cheese.
6. Bake according to crust's instructions.
7. Tear basil and place on top after cooking.
8. EAT & LOVE.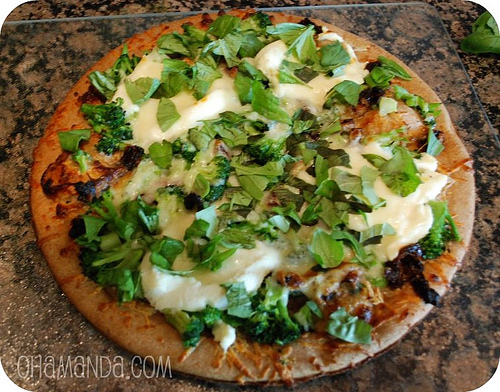 Isn't that beautiful? Oh yummy. Both my kids ate it up–including the basil and the sun-dried tomatoes! But the best part? My little pizza making helper—she picked the basil out of OUR GARDEN and carefully washed it and placed it on the pizza! How cute is she?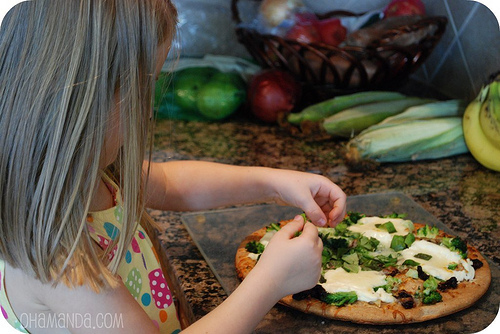 linked to my bff Jill at Things I Love Thursday