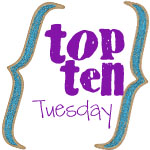 We got a new TV on Black Friday. Yes, we did. And it's big. And flat. And shiny. My husband is very happy. This new TV has reminded me that we have not talked about television in quite some time! I have been remiss in filling you in on my TV watching habits! I know you've been missing out on my commentary.
TOP TEN SHOWS OF 2009 & WHAT I THINK OF THEM SO FAR
1. How I Met Your Mother. Yes, it's the show I should probably not watch. Especially since I tend to love the harlotry that is Barney. But I can't help it. Barney is…wait for it…awesome. He is. And now I follow him and his counterpart, Neil Patrick Harris on twitter. And it makes me happy. I'm kind of sad about Barney & Robin breaking up.  What did you think of those lovebirds?
2. So You Think You Can Dance. I'm pretty sure I've discussed how I adore this show. How I would marry this show if that was possible. How I want to sit next to Nigel and Mary. Of course, no one will ever hold the special place in my heart that Thayne, Twitch, Joshua and Katee hold. But I think right now I like Legacy (sans the tears), Ashley, Jakob and Katrhyn. Oh, and Ellenore! Who's your fave?
3. Biggest Loser. How can you NOT like this show? I mean, besides the 45 minutes of show squeezed into 2 hours, it's such an inspiring show! And this season? Abby?! Are you kidding me? I cry just thinking about her. And Shay? Did they REALLY kick her off? Grrrr. I'm still one week behind, so don't tell me who the final four are. But so far, who's your fave?
4. The Middle. I know, this show probably won't make it. But it makes me laugh. Patricia Heaton (formerly of Everybody Loves Raymond) is the mom to a Roseanne-ish but funnier type family. But really Heaton is not the funny one. Its the kids are hysterical. Axl has the tortured teenager down to the most beautiful stereotype ever. And Sue? HILARIOUS. But Brick (::brick::) is just too funny for words. *snort* It's making me laugh to think of it.
5. Flashforward. OK, this is the show I WANT TO like. But either our tivo is wonky or they've only made like four episodes because I have missed out on some of these. What do you think–could it ever rival LOST? WHAT AM I TALKING ABOUT? OF COURSE IT CAN'T! (But seriously, what do you think of it?)
6. Survivor: Samoa. Otherwise entitled, SURVIVOR: RUSSELL. I can't help it, I want Russell to win. He's an evil genius. Not in the vein of Johnny Fairplay and not even in the vein of Richard Hatch. He's just…hilarious.Please tell me you like Russell.
7. Fringe. I heard this show was in danger of not making it past this second season. I actually like it better this season than last. Do you watch it? It's about…uhm, well, it's kind of confusing because there's this FBI agent, and a crazy old scientist and his probably-from-another-dimension son along with Matthew Abadon from LOST who are trying to crack the case on fringe science and open up a galaxy wide plot to control the world. I likey.
8. Big Bang Theory. Thank you to my sister-in-law, Catie for telling me to watch this show. It is GEEKY and HILARIOUS. And Sheldon? Oh, Sheldon. I cannot even come up with something witty enough to describe you. I think I have a geek-crush on you.
9. The Amazing Race. I am about 6 episodes behind. Don't tell me anything. All I know is the Poker Players get on my nerves. And Phil is awesome.
10. Project Runway. Les actually introduced me to this show. I thought it was a model show. I didn't know it was a creative show! These designers amaze me! I can't beleive someone can just make up an outfit and then create it in a day! It's unbelievable. This season just ended. I wanted to Carol Hannah to win. Oh well. She was still the nicest. And Tim Gunn? Love him.
:: :: ::