Today we picked a new fruit: FAITHFULNESS! As we get to the end of our Fruit of the Spirit series, it's getting harder to get excited about each one. I mean, faithfulness. It's not something Lydia deals with. She's madly loyal to everyone she knows. So, what does faithfulness mean to a 3 year old? And how can I show her how important it is?
I had this great analogy in my head about eating a lemon together. How we'd eat it with puckered lips and try to finish it–be faithful to eating it even in the midst of something hard, sour and bitter. Great in theory—but practice? *shudder* I knew she wouldn't do it. (And I probably couldn't either!)
I tried to get her to guess what FAITHFULNESS meant. I told her the sun was faithful because it came up every morning. I told her Daddy was faithful to come home every night. I explained how Jesus was faithful to love us even when we disobey. I asked her if she could be faithful to her friends even if they were mean to her. I think she got it.
We chose Psalm 51:10 as our scripture. It's a prayer of David, "God, create a pure heart in me. Give me a new spirit that is FAITHFUL to you." We talked about how it is the most important to be faithful to God. And how He will help us be faithful–we don't have to do it on our own.
As I was searching lemon crafts to go with this lesson, I ran across the old lemon-juice-invisible-ink trick. What a great idea! I thought we could make a magic trick about how God gives us a NEW spirit to help us be faithful!
First we squeezed a lemon. This was quite exciting. (Only she wouldn't get the lemon out of the fridge herself because our Thanksgiving turkey is in there. And it completely grosses her out that a turkey is in our fridge.)
Then I drew a picture of Lydia (shockingly realistic) and had her paint it with lemon juice.
We held our finished product up to a light bulb first. And nothing happened. Then I got out a candle. Yes, a candle with a piece of paper and a 3 year old. (You know where this is going, don't you?)
After several trials and errors (make sure you let the flame stay on one section for quite awhile, don't move it back and forth too quickly) we had all of our NEW SPIRIT showing! A success!
Since this went over so well, we decided to do some more secret messages. And as I was trying to figure out the best method of revealing it, we had a little problem…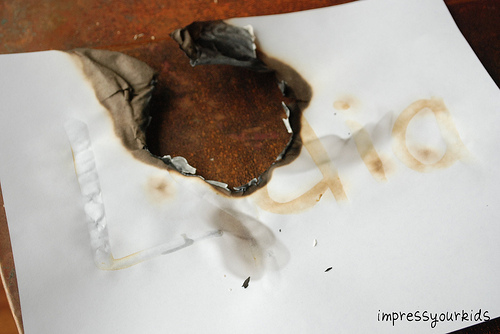 Well, it was fun while it lasted.