It's time for our new Fruit of the Spirit: LOVE! I chose cherries to symbolize love because they…uhm, are red, they kinda sorta look like hearts and they are usually seen in pairs. That and my only other options from the fruit basket were lemons and limes. Not very love-ly.
The reason we chose LOVE this week is because of something that happened in our family. We sponsor two kids through Compassion. We give $38 a month to basically take care of this child's entire life. This 38 measly dollars gives the kids schooling, health benefits, food and most importantly the opportunity to know Jesus.
We picked a little girl named Alizeta from Burkina Faso when Lydia was about 2 years old. Lydia was so excited she tried to stick dollar bills into my laptop for Alizeta! She talks about Alizeta all the time. When Asa was born, we decided to support a little boy. His name is Rasmane. Rasmane is also from Burkina Faso–in fact, he is in the same Compassion center (Compassion works with pre-existing schools/churches) as Alizeta. We did this on purpose. Compassion gives sponsors the opportunity to meet their sponsored kid. We are committed to bringing Lydia and Asa to Burkina Faso to meet Alizeta and Rasmane one day. How cool would it be to meet them after supporting them for 10 years?! I cannot wait.
We try to write to Alizeta and Rasmane regularly. And we always send little gifts with our letters. Lydia loves to draw pictures and pick out stickers to mail to them. Here's a picture of Rasmane and Alizeta with their families. Rasmane is clutching the jeans (isn't he hilarious?!) and Alizeta is holding the doll (she IS the doll!).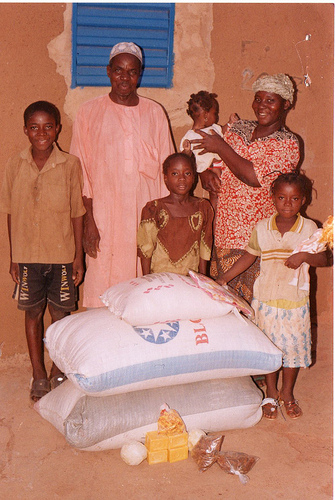 Well, this week we found out Rasmane's parents pulled him out of the program because of religious issues. I was so sad when I found out the news. I literally had tears in my eyes. But it also kinda encouraged me, too. Compassion—the church and/or school that Rasmane was a part of (and maybe even our letters) were pointing Rasmane to Jesus. If Compassion was only giving food and clothes, Rasmane's parents wouldn't have cared. I'll miss Rasmane but it makes me feel good that we are really helping lead kids to Jesus—halfway across the world! We love Rasmane and will continue to pray for him—that this time involved with Compassion will make an eternal difference.
Lydia and I read several verses about LOVE (1 John 4:7-8, 12; Proverbs 17:17 or John 3:16) but ended up with this one as THE verse (I think it pretty much covers ALL the love verses out there…)

Jesus replied: " 'Love the Lord your God with all your heart and with all your soul and with all your mind.'This is the first and greatest commandment. And the second is like it: 'Love your neighbor as yourself.'Matthew 22:37-39
This week all of our LOVE activities will be about showing LOVE to our Compassion kids. We've written letters, colored pictures and I've got a few more fun things prepared, too. I hope Lydia will understand that LOVE is about doing and giving having compassion for others.
My next few FRUIT OF THE SPIRIT: LOVE posts will focus on great tips on writing letters, gifts you can send to your kids and how to make your sponsored child "real" to your own child.
What? You don't sponsor a child? Well, please! DO SO NOW!