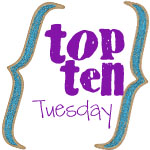 1. We are still on California time.
2. Traveling four time zones with two kids is torture.
3. Eastern time is no fun.
4. Especially after you've been on Pacific time.
5. Lydia and Asa are on different time zones.
6. Neither of which I am on.
7. It takes one day per time zone to get your body back on it's internal clock.
8. We have been home for uhm…1 1/2 days.
9. So, our internal clocks must be somewhere over Kansas by now.
10. Did I mention we're still on California time?
:: :: ::
If you've got a Top Ten list to share, PLEASE join us! Just write a fun/exciting/informative/yummy/hilarious list on your blog, link to the POST in the MckLinky below, link back to me using my super cute button (pretty, please), then begin commenting and visiting away! (See Top Ten {Tuesday} page for more amazing info.)