Eight month old babies are interesting little creatures. Asa has grown up so much in the last few weeks it is unbelievable. He's gotten cling-ier because he's suddenly more aware. He has FOUR teeth now. He is even crawling like a real pro. But there are some things that just make me shake my head in disbelief. So, here are the
TOP TEN THINGS ASA DOES THAT DON'T BOTHER HIM BUT SHOULD
or Top Ten Activities Eight Months Old Do, But An Adult Never Would:
1. He enjoys hitting his head. He pulls up on every piece of furniture that has a short top…short enough for him to hit his head. And this become his new favorite place to practice standing. School of hard-knocks, I guess. Literally.
2. He wears clothes with potty stains. Maybe this is mother's fault. But still. He should be embarrassed.
3. He wakes up in the middle of the night. If I woke up as often as he did at night, I'd be exhausted the next day. Oh, wait. I do wake up as often as he does…
4. He doesn't eat  food. He has started gumming waffles and squeezing kiwis with his fist into juice.
5. He enjoys sucking on dog's ears. Or noses. Or tails. And really, it doesn't have to be a dog. If his big sister puts a cat doll, a stuffed cow or a skunk in his hands—he's chewing on its extremeties.
6. He fights naps. Now if this isn't odd I don't know what is.
7. He cries for his Mama. Well, now, that one is kinda sweet.
8. He enjoys being carried everywhere. Hmmm…actually, I think I might like this one, too. His stroller is downright cushy. And his ring sling? Positively cozy!
9. He wakes up in the middle of the night. Oh, did I mention this one already? Like I said, I'd be exhausted…
10. He takes baths with his sister. But seriously, how cute is that?!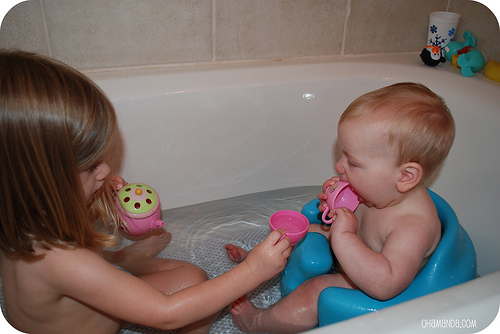 Now it's your turn! If you've got a blank blog post staring at you, why not try a Top Ten list? Just write up ten of your top…whatevers and post it on your blog. Then grab the PERMALINK, enter it in the Mr. Linky below. Now, here's the best part—start clicking around to the other Top Ten Tuesday participants below. You might make a new friend…and you'll definitely be entertained!
:: :: ::
And don't forget to enter my Little Debbie muffin giveaway! Yummy yum!