…all the decorations are being taken down!
Really? When do you take your decorations down? I hope not today. I'd love to keep mine up forever but my daughter's birthday is January 5th. At least it gives me a good cut off date.
Anyway, I just wanted to share my very favorite AFTER Christmas tip with you. Are you ready? I can feel the excitement. Here we go…
See, I have this friend of a friend of the family (you know, the guy you duck when you see him at the store because you don't really know him and you don't really want to have a conversation about your family). Anyway, he used to (I don't know if he still does) goes all out for Christmas. His Christmas tree was the most amazing thing I've ever seen. He wraps EVERY SINGLE branch with lights. It was brilliant.
And he showed us the secret to storing Christmas lights.
All you do is start with one end of the strand. Put the first light at the bottom of your palm and pull the 2nd light to the top (vertical across your palm). The, while you are pinching/holding the 2nd bulb, pull the 3rd bulb down the the 1st. Like so…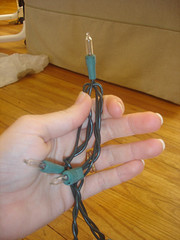 Then keep matching the odd and even bulbs.
Eventually, it will look like this.
Then once you get them all in your tight little fist…
Just wrap the remaining cord around and plug it back in!

Now isn't that better than my husband's wrap job?
And it only takes about a minute a strand–it's way easy! But even better is next Christmas when you dust off your boxes full of decor, your little strands of lights will be ready to go! You just hold it in your hand and wrap it right around the tree. No de-tangling, no pulling them across the floor, just easy tree lighting!
There you go. Pretty cool, huh?
Merry TakingChristmasDecorationsDown!
***this was at least partially originally posted on January 2, 2008***