(I like that title because it seems like I do works-for-me-wednesday all the time!)
My husband and I put away our Christmas decorations yesterday. I wouldn't put them away so *early* but my daughter's birthday is on Saturday. I just didn't think the Christmas tree would do much for the birthday party, you know?
I have to say my little Christmas boxes are pretty organized. The ornaments go in their boxes, which go in my little Christmas tins. The breakable ornaments go in the thick wool stockings for protection. And the Christmas lights are in a tangled mess right in the middle.
*sound of record scratching*
Huh? Those strands of lights are trying to ruin my orderly boxes! (Hey, something in my life needs to be orderly!) Well, never fear because I have discovered how to wrap Christmas lights so they WILL NOT tangle AND they will keep your Christmas decor clutter free.
Are you so excited?
Me neither.
But continue we must.
See, I have this friend of a friend of the family (you know, the guy you duck when you see him at the store because you don't really know him and you don't really want to have a conversation about your family). Anyway, he used to (I don't know if he still does) goes all out for Christmas. His Christmas tree was the most amazing thing I've ever seen. He wraps EVERY SINGLE branch with lights. It was brilliant.
And he showed us the secret to storing Christmas lights.
I can feel the excitement.
All you do is start with one end of the strand. Put the first light at the bottom of your palm and pull the 2nd light to the top (vertical across your palm). The, while you are pinching/holding the 2nd bulb, pull the 3rd bulb down the the 1st. Like so…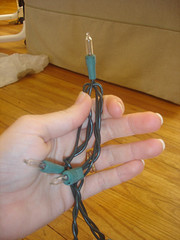 Then keep matching the odd and even bulbs.
Eventually, it will look like this.
Then once you get them all in your tight little fist…
Just wrap the remaining cord around and plug it back in!

Now isn't that better than my husband's wrap job?
And it only takes about a minute a strand–it's way easy! But even better is next Christmas when you dust off your boxes full of decor, your little strands of lights will be ready to go! You just hold it in your hand and wrap it right around the tree. No de-tangling, no pulling them across the floor, just easy tree lighting!
There you go, if you haven't taken your decorations down, now you've got a new trick for your lights. If you have, well, that's what you get for being a humbug and not keeping them up till Valentine's Day like everyone else.
And as always with Works-for-me-Wednesday, if this is like the thing that every person in America does and I just didn't know about it–well, at least I made a tutorial with pictures. Please humor me and leave me an encouraging comment anyway!
Merry TakingChristmasDecorationsDown!
(oh, here's some of my other wfmw: birthday ideas, hair product saver & my fave brands!)