My kids got the coolest craft and activity from church a few weeks ago and I knew you'd want to see it! It's a simple and perfect activity you can do this Easter season and you probably have all the materials around your house right now.
All you need is a two craft sticks (or the sticks from a popsicle you ate) and a handful of those little colored rubber bands kids use for Rainbow Looms (or whatever they're called) to make bracelets. If you have kids you KNOW what I'm talking about.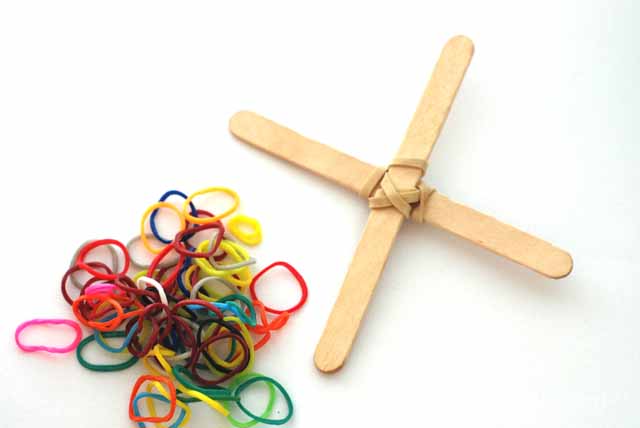 Connect the two sticks into a cross shape (we used a regular sized rubber band).
Then use the small, colored rubber bands to fill up the rest of the cross.
Pretty, right?
But here's the best part: instead of just making this craft, use it as an opportunity to talk about sin. Explain that each of the colored rubber bands represent a sin in your life. You could have your kids attach a rubber band every time they realized they've sinned during the day (that could be tedious…) or you could just discuss several sins they struggle with (or you struggle with!)
Then, talk about how Jesus took all our sins upon Himself when He was on the cross. You might want to read 1 Peter 2:24, "He himself bore our sins in his body on the tree, that we might die to sin and live to righteousness…" Or watch Phil Vischer's description of Jesus taking our sins.
When you put the rubber bands (sins) on the cross–look what happens! It turns into something beautiful! This is what Jesus did for us–he took our sins on Himself so we could live forever with Him. The horrible evil of the cross was turned into something beautiful for us!
This might be a fun activity to do this Easter Sunday if you've got lots of cousins and nieces and nephews around. Pull out the rubber bands and get busy fingers working–and little hearts listening to the Truth of God's love for them!