My Lydia turned nine on January 5th. We're halfway to eighteen years old! I literally cannot fathom that the little baby who made me a mama is now nine!
For months, Lydia has wanted to have a "It's a Small World" party based on one of her favorite rides at Disney World of the the same name. (Yes, the one with the song. Yes, we made a Spotify playlist of every Small World version you can fathom. Yes, she actually likes the song!)
We came up with all kinds of fun ideas about passports and food from around the world. I basically wanted to decorate like Mary Blair. I got my Pinterest board ready and we were set on Small World. As we talked about the party, I thought to myself, "I'm going to ask Lydia if she would think about not doing presents this year but ask everyone to bring money and donate it to Compassion or something." It would be a perfect fit because of around-the-world and honestly, we had Christmas 12 days ago. Does she need any more gifts? I mentioned it to my husband but never said anything to Lydia.
As the holidays and her birthday got nearer, it was time for Operation Christmas Child! Lydia is madly in love with packing shoeboxes. She literally thinks about it all year round.
We shop for gifts all throughout the year–after holidays at 90% off or when we run across some really clearanced item at a toy store. Somehow, we managed to buy 40 stuffed animals last year and the kids were set on packing 40 boxes. We ended up only doing 27 (or so) and the kids were super excited because we delivered them to the Processing Center on a Family Tour day and they were all delivered to Burkina Faso, where our Compassion kids live!
During all this collecting and dreaming about 40 boxes, Lydia told me she wanted to pack 100 boxes in 2015. I'm all for my kids doing hard things. In fact, it's what I've been trying to train them to do since they were very little. But 100 boxes is a lot. That's a lot of little gifts we'd have to buy. With the $7 per box donation fee for shipping, that would be $700 just for shipping!
But I couldn't tell her no. Not after all the times I've told them they can do big things for God. So, I explained that she'd have to be in charge of making sure it happened. She'd need to make a list of all the "must haves" for the boxes. She'd have to write letters to toothpaste companies and crayon companies to ask for donations. I told her it would be up to her to use her own money to buy some of the gifts and to be the one to remind us to hit up all the stores after Christmas, Valentine's Day, etc. for good deals. And she was ready. She pulled out a notebook and started on her own list of stuff to do.
As we got our Operation Christmas Child boxes out of the basement (all the stuff we've collected throughout the year), she was like a kid in a candy store. So excited to sort the items, to pack them up and thinking about the kids who would open the boxes. That night, as we got ready for bed, Lydia came to me, still on a shoebox-high and said, "Mommy. I just had THE BEST IDEA. Instead of presents at my party, I want to have everyone bring gifts to fill Operation Christmas Child boxes!"
I grabbed her hand and pulled her to the floor and said, "Lydia. I just told Daddy that I was going to ask you if you would be willing to go without presents for your birthday and donate money to Compassion or somewhere! I think God just spoke to you and told me, too so you would know it was Him!"
That turned a switch inside of her and she could not stop jumping and laughing and giggling the rest of the night. She was so excited about the thought of the boxes, her party and yes, God speaking to her. It's a conversation we've had many times–how does God speak to me when I can't hear him?!
And suddenly, in her almost-9-year-old heart, God spoke.
So, our "It's a Small World" party turned into a Small World/Operation Christmas Child party and she had the time of her life. The guests had a blast playing and eating food from around the world–but one of the favorite parts of the day was when they all opened their gifts (ok, dumped their gifts on my couch) to look through everything that would be put into a shoebox.
And Lydia's favorite part? Sorting it all into FOUR giant boxes and packing her first five boxes of 100.
I hope when you read this you don't hear a spiritually-proud mama bragging on her super-spiritual kid. Don't get me wrong, I'm ridiculously proud of Lydia. My heart hurts I'm so proud. But Lydia's just a normal kid. She gets in trouble, is selfish and whines when she doesn't get her way. But God still uses her. Just like He used a murderer like David, a loud-mouth like Peter, a selfish mama like me and a normal person like you.
This is just the way God is choosing to show Himself, to grow my daughter and to reach kids for Him. So, this year, I'll be documenting Lydia's 100 boxes on my blog—showing you how she's writing to companies, packing Christmas gifts in May and saving money to send boxes around the world. Not to show off, but to keep us accountable and to remind you that God can use you at any age and any capacity! {ETA: See our end-of-the-year update here!}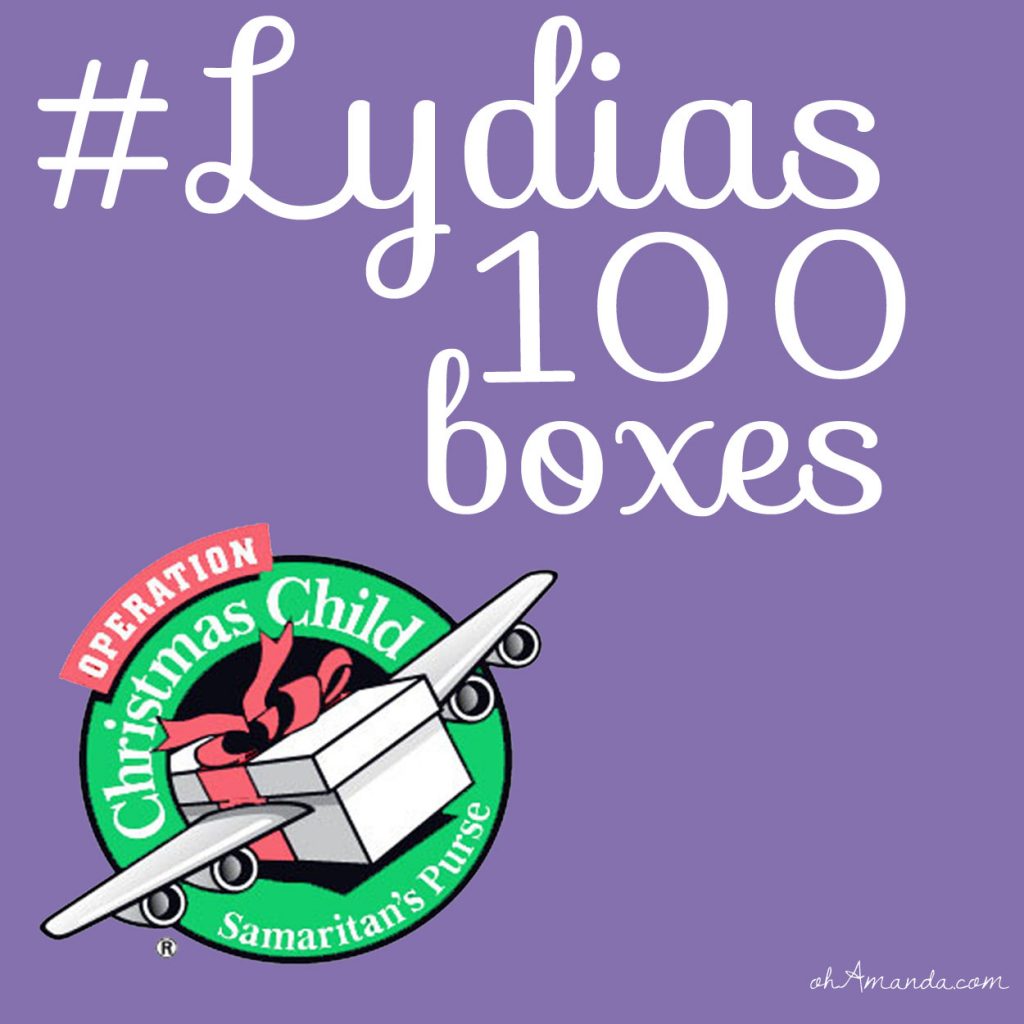 And don't worry, I've got a special Small World Party post coming up for you–complete with games, food and costumes from around the world! Oh, ok, because I love you. Here's a picture of the birthday girl at the party…