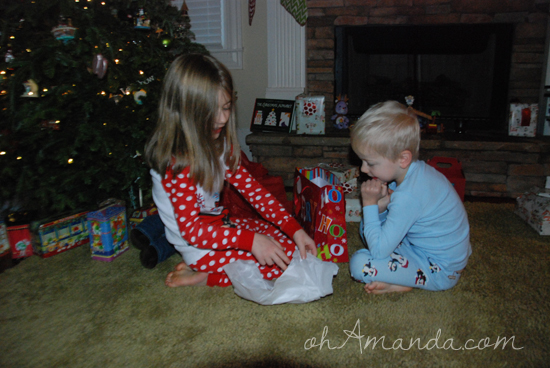 In a crazy turn of events, we spent Christmas Day at home. Just the four of us.
We woke up when we wanted (ok, when the kids wanted!), opened our three presents, I fell asleep on the couch, we watched the Christmas parade, played with new legos, had leftovers for lunch, made our final Truth in the Tinsel ornament, picked out gifts for Jesus and had popcorn and It's a Wonderful Life for dinner. It was glorious!
It was a day of family, of quiet and a day we actually celebrated Jesus' gift to us. I loved how slow and simple it was.
Of course, that quiet won't last. My husband has to work today, I have to mail a Christmas gift I still have sitting on the dining room table, we have Christmas with my in-laws (all 12 of 'em) on Saturday and Lydia's birthday is just 12 days away! Eek! I've barely done anything for Lydia's party–it's American Girl doll themed and I've got to get crackin'!
I usually take an unintentional break from blogging and the internet at the end of the year (case in point: last week) but I'm going to be intentional about it this time. I'm going to be in planning/clean-out-my-inbox mode until after Lydia's party the first week of January.
I'll start a new series with the kids (and for everyone who wants to continue their Truth in the Tinsel-like devotional time) on January 13th! So, I won't be posting about New Year's Resolutions, updating on Facebook (unless I just run across a really great kindle freebie!) and very little on Twitter. But I've got lots of great ideas for the New Year running through my head–and especially some stuff about Easter, the didn't-happen-last-year-Easter-book and other stuff for ohAmanda. If you think about it, I'd love for you to pray for wisdom and direction so I can do what God has for me!
Merry Christmas, Happy New Year and I'm-so-glad-we're-friends!