Yesterday we did our unEaster baskets. I have no idea where that title came from, but it's stuck in my mind. My whole purpose in doing baskets is to give gifts that will remind our kids to grow in the Lord. I'm not naive enough to think these gifts will change their life and make them love Jesus forever. Nor am I so hyper-spiritual I think I am doing "better" or "more" than someone who fills up a basket on Easter morning with chocolates delivered straight from the Easter Bunny. This is just what we do and I really like it.
First, I send the kids out with Easter baskets in hand to collect rocks. Yup, rocks.
When they bring them inside (and good grief, they found a lot of rocks yesterday!), we talk about Ezekiel 36:26, "And I will give you a new heart, and a new spirit I will put within you. And I will remove the heart of stone from your flesh and give you a heart of flesh."
We write down sins we struggle with on these rocks, reminding us we don't want these sins to rock-up our heart.
Then we cover our baskets with a red cloth Snow White cape to remind us of the red blood Jesus shed on the cross. We read 1 Peter 2:24, "'He himself bore our sins' in his body on the cross, so that we might die to sins and live for righteousness."
Asa seriously thought I was about to do a magic trick here but I had them go upstairs for naps and rest time before I got to work…
I put the rocks into a new basket labeled Jesus.
Then I filled their baskets with gifts…
For Lydia: Lady in Waiting for Little Girls book, fun stuffed animal, Imagination Sation book, a chia-pet chickie thingie, a dress to wear on Easter and a piece of chocolate.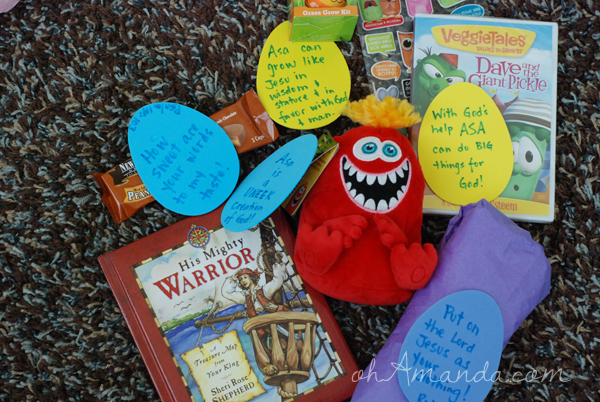 For Asa: His Mighty Warrior, a cute little stuffed animal, Dave and Giant Pickle DVD, a chia-pet type thing, a shirt and tie to wear on Easter and a piece of chocolate.
I added egg-shaped tags to each gift with a Scripture on it. (I just randomly had those egg tags in my craft closet.) I changed the Scriptures to add their names and I hope it made the gifts a little more meaningful.
When they came downstairs we read Romans 6:23 and talked about how Jesus took all our stony sins and gave us the gift of eternal life. We told them the gifts in their baskets were from Mommy and Daddy to remind them of The Gift Jesus gave them and hopefully, these gifts will help them grow in their relationship with Jesus.
Asa had just woken up from his nap (which is very rare that he even takes one these days) and I love his sweet little face when he walked downstairs to see the new basket all set up. He loved every second of it!
It was a fun way to start off this Easter week. The kids were literally jumping up and down they were so excited. They knew gifts were coming but they enjoyed the whole collecting rocks and talking, too.
Here's some fun printable Scripture cards to make your own Easter baskets a little more meaningful!
So, what are you putting in your kids' Easter Baskets?