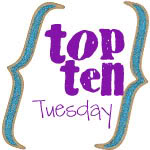 This is just the mood I'm in today, folks…
1. Snyder's Butter Snap Pretzels and Archer Farms Dark Chocolate Peanut Butter. Dip the former in the latter. YUM.
2. Chocolate Covered Rice Krispie Treats. Especially if it's shaped like Mickey Mouse!

I didn't tell her the "L" was from weLcome. She thinks it's for Lydia!
3. Graham crackers slathered in canned frosting. Is even a little more fun if said graham crackers are in the shape of teddy bears.
4. Half a pack of Oreos and a glass of milk. Both straight from the fridge. (thanks, Daddy!)

photo by smercury98
5. Moose Munch Bar. (Usually eaten while hiding it in my lap on the ride home from Target.)
6. An entire bag of Pepperidge Farm Mint Brussels.
7. Paula Deen's Chocolate Popcorn.
8. Microwave popcorn with M&Ms. (Who am I kidding? I eat this three times a week. I feel like I'm lying for even suggesting that this should not be eaten!)
9. Jelly Bellys. I like the buttered popcorn best. By the handful.

photo by isazappy
10. Bacon Cheese Krispy Kreme Burger Donut Thingies.

photo by ccaviness
KIDDING.
(hat tip to Wickstrom Adventures, the real bacon-fan.)
:: :: :: ::
So, Top Ten-ers?  You wanna hear my trashed titles for today? How 'bout: Top Ten Gifts I Did Not Get For Mother's Day OR Top Ten Reasons I Think Exercise Is Overrated (also an alternate title for today's list) OR Top Ten Shows I Still Have Not Watched Because We Don't Have Cable Yet. What about you? You ready? Let's see what you got today!
Post your own Top Ten on YOUR blog, link up on MY blog, then visit the OTHER blogs! And have fun!!