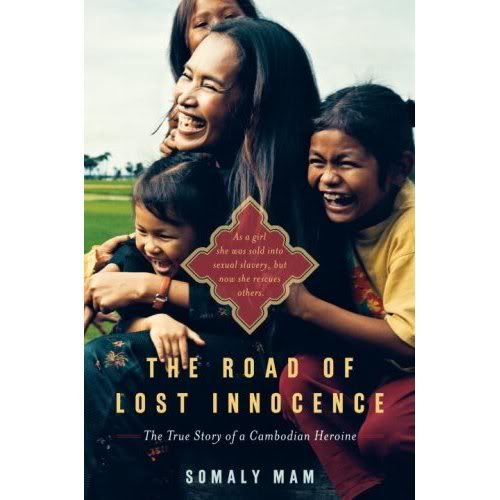 I couldn't put this book down.
It's the story of Somaly Mam, a Cambodian woman sold into prostitution as a young teenager. It's a gritty, honest telling of her life. I want to describe her story too you but it's just too much. Here is what Somaly says in the introduction,
In 1986, when I was sold to a brothel as  prostitute, I was about 16 years old. Today there are many far younger prostitutes in Cambodia. There are virgins for sale in every large town, and to ensure their virginity, the girls are sometimes as young as five or six.

In Cambodia and throughout Southeast Asia, tens of thousands of minor children are forced into prostitution annually. They are raped and beaten, often for years. Many are killed.

I dedicate this book to the thousands of little girls who are sold into prostitution every year.
My mom told me once of a missionary friend who went to another country to help with an organization that rescued girls from enslavement as prostitutes. It had been several months that she had been back in the United States and my mom asked her about the trip. She said, "I still can't talk about it. It's too much."
I almost feel that same way after just reading Somaly Mam's story. There is too much pain and too much suffering. Little girls being sold so men can take advantage. Women profiting from them. Police and government officials being paid to ignore.
As a comfortable American, it's hard to even fathom. How are we so blessed? Why?
I can't really say anything more without just telling you some of the girls' stories. So instead, I'll direct you to the Somaly Mam Foundation and two another organizations, The Home Foundation and Love146. (Their mission is the same, to stop  human trafficking, especially of children and little girls for prostitution).
Please visit these sites and read their stories.
If you leave me a comment and tell me you even remotely looked around one of these sites, I'll enter you to win this book. (It's slightly used, by me.) Random House sent me only one copy, but I think this one needs to be shared. It's not one I want to read again. But I do want you to read it once.
One more thing. Something that really stuck out to me is how even after years of being "freed" from slavery, Somaly still has horrific nightmares about her past life. She can smell the stench of the brothels and her attackers. She says she buys an enormous amount of lotions and perfumes to cover that smell…a smell that is only in her mind. She still feels dirty and unworthy. She feels rage for the people who did this to her and the ones that continue to victimize children and women today.
I'm just asking you to join me in praying for Somaly. That she would receive beauty for her ashes and that she could really be free from her past. I know it doesn't seem like much, but, I think about how God knit her together, too. He knows her by heart and weeps for her loss. Pray for her. And the girls she rescues. Pray they'd find The Rescuer, too.
Update 5/2014: Apparently Somaly Mam fabricated much of her story. Still praying she discovers the beauty God has for her.