My kids love puzzles. So much so, that we actually had to do a big declutter session with our puzzles. They wanted to keep all those chunky wooden puzzles they played with as 2 year olds. It was a major ordeal and they came up with all kinds of reasons we should keep EVERY. SINGLE. ONE. Well, after I finally pried their hands off of them, what do we get in the mail today from my friend Katie?
A puzzle.
But this isn't any puzzle. It's a circle! And!! It's an Armor of God puzzle! 
It's actually three puzzles in one–the middle circle is large pieces and shows a picture of a soldier, the second circle is a bit smaller with pictures of each individual piece of armor and the third circle are even tinier pieces with the entire Armor of God passage (Ephesians 6:10-18) around it.
Lydia and I (and Asa, for about 4 pieces) put it all together this afternoon and I'm pretty sure we had the entire passage memorized by the time we were done!
The kids love doing puzzles and I loved reading, talking and focusing on Ephesians 6:1-10 for an hour or so while we put it together. It was like we were meditating on the Scripture. (I'm not exagerrating. We were practically quoting it!)
It made me think it might be fun to do the same thing with Scriptures I want them to learn. But of course, I don't think I could design and create a circle puzzle!
Then I remembered a Bible verse scavenger hunt I did with the kids one time. I hid pieces of a Bible verse but since neither of them could read, I used pictures to help them remember the verse. Anyway, that inspired me to make the same idea with a little bit of a puzzle twist.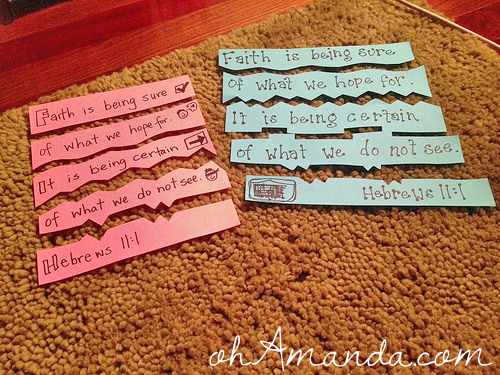 I whipped these little puzzles for our Shield of Faith verse, Hebrews 11:1 after the kids went to bed tonight. I'm going to let them have a go at it in the morning and see how they like it.
Whaddya' think?
Do your kids love puzzles?

{This puzzle was from Blessings Unlimited now called Mary and Martha but it looks like they don't make them anymore. Sad face.}