It's 4:25 in the afternoon. And my kids are in the bathtub. Why? Because Asa had a little accident during his nap. Which has not happened in months. Of course, I had just put his newly laundered comforter on his bed the day before. So, we're off to wash every piece of bedding again. *sigh*
We were supposed to write our sponsored kids today and we have barely been home! Lydia is doing "Sewing School" with my mom every Friday morning. Today, after I picked her up we went to Whole Foods and spent an hour and too much money on some food. Then naps, the accident and now the bath. *double sigh*
Anywhoo. As soon as the kids are out of the bath, we finish school, clean the kitchen and make dinner (*whew*), we are going to make apple prints for our sponsored kids! I want to do a craft each month that is kind of thematic of the month. So, I thought apples would be perfect for September!
I really wanted to make and send them this adorable bag I found on Pinterest. (Isn't that cute?) Then I remembered this apple print banner we made a few years ago.
So, I thought we'd combine the two ideas and make an apple print lunch bag. Do you think it is a weird gift to send a brown paper bag to our sponsored kids? I know my kids love little bags and to have a spot to keep all their little belongings. Well, that's what we're going to do anyway!
I'll update tonight (or first thing tomorrow) on Facebook to show you how it turned out! Update: We did it! Click to see the pictures!
Your crafty mission is to make an apple print
or two (maybe a small banner? a bag? or just a piece of construction paper with as many apple prints as your kiddos can cram on there!)! Make sure to include a little note to your sponsored kids about the Autumn weather or traditions and include
Psalm 17:8
or
Proverbs 7:2
!
If you're not feeling crafty this month, keep your eye open for something fun in your mailbox you could "re-gift" to them—we always get those thin little magnets with pretty pictures on them, mini calendars and even sheets of stickers!
ps–the above picture is about 2 hours after I started this post. The kids are in their jammies and dinner is on the table…but we're getting closer! At least the apples are out!
:: :: ::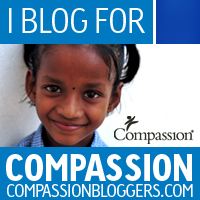 This month is Blog Month with
Compassion International
.
They've set a goal to sponsor 3100 kids via blogs in September.
That number almost puts tears in my eyes! 3000+ kids set free from poverty, cared for, loved on and shown Jesus' love! Only
$38 a month
(less than 10 bucks a week!) can change the life of a child, a family and even a community!
If you've been following our Sponsored Kids crafts for awhile and you've said, "One day, we'll do that." or "I need to sit down and sponsor a kid." Will you do it now? Stop and look at the faces of real children that need you. Real kids that need Jesus. Your life will never be the same!

Check out our Flat Crafts for Sponsored Kids Pinterest Board for more fabulous ideas!