It's spring and I felt the need to do some kind of new-life craft with the kids! You know, baby bunnies, little lambs or a beautiful butterfly! As I was looking through our books for inspiration I found one of our favorites, Tiny Tadpole by Judith Nicholls. It's one of those touch-and-feel kinda books from Little Scholastic (we love the Noisy Egg, too). Usually touchy-feely board books are the kind you don't want to read over and over. But both my kids have loved this one at every age–and I like it, too!
It basically goes through the life-cycle of a frog from tadpole to full grown hopping leaping frog. It's a simple book that I'm pretty sure my 5 year old can quote it we've read it so many times.
To make this book come alive we made some stick puppets! The teeny tiny tadpole was an easy one. Just cut out a little circle with a tail, tape on a craft stick, add a wiggly eye (or 2) and there he is!
Next we tackled something a little harder. I just bought this great over sized construction paper which was the perfect size for Freddie the Frog. I sketched him out and let the kids have at him with finger paints!
The important part here is that I drew the body, arms and legs separately so when we cut them out it would be easy to re-connect later!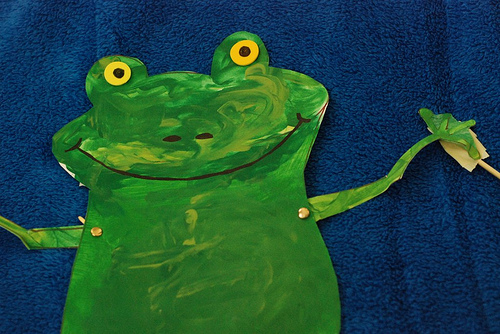 Then after a little cutting by mom, we punched holes in his arms and legs and used paper fasteners so he could really hop and leap!


We added a big paint stick to his middle and one little skewer to his arm for a little more fun manipulation. The best way to make an arm rod (especially out of something as pointy as a bamboo skewer) is to take a piece of masking tape and fold it over the top making a little flag. Then tape the flag to the puppet's arm. You'll be able to move the arm without ripping the rod right off! (See my how-to-make-a-rod-puppet post for a close up picture!)
Oh, and did you see we made webbed feet, too? We just glued on some green tissue paper and then trimmed up the excess! It was Lydia's idea–she's all for realism!

The kids had a blast ribbit-ing, jumping and performing a puppet show from behind the couch. They acted out the entire book then Lydia grabbed my Flip and started making videos of their puppet shows. I may be a proud mama, but I'll spare you the homemade-by-a-5-year-old videos!
This was also a great activity because we got to talk about the life-cycle of the frog. It was the perfect object lesson for the  big conversations we've been having about salvation, growing in the Lord and being born again. Remember that old song, Bullfrogs & Butterflies?
Ol' tadpole in a fishin' hole
He couldn't croak or jump to save his soul
But then one day
It's the funniest thing
Why he started growin'
Turnin' green
Yes, he jumped up on a lily pad
And he was croakin' out a song, gave it all he had
Bullfrogs and butterflies
We've both been born again
Bullfrogs and butterflies
We've both been born again
I didn't plan for this craft to be about the transformation that a life with Jesus brings, but it just worked out that way! It was exactly what I want for my life– to quietly see and hear God's WORD and LIFE in our everyday activities!