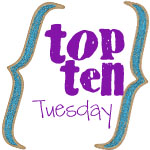 Now that the fam isn't visiting, VBS is over and I have a week of no responsibilities, I've been online a little more. And looking at stuff I want to look at just for fun. So, here's a few gems I've found this week. These are the:
Top Ten Internet-ish Things I'm Excited About
1. MckLinky. OMG. A Mr. Linky alternative. I tweeted about how I wished someone would do this weeks ago. The internet-gods are listening! I'm using it today…let's see how it works, ok? (Thanks Lisa!)
2. I caved. I finally started subscribing to SimpleMom. Well. It's because I need some simplicity in my life. I have finally realized that housekeeping is not anywhere on my top ten gifts or talents. And I need some help. She has some clean-looking downloads. And I really agree with a lot of what she says. So, yeah, I'm a simplemom-ite.
3. Impress Your Kids. We're re-launching IYK with it's own domain next week! I'm so excited. I took an unintentional bloggy hiatus from it. And I've missed it! I've got some new ideas for it and I can't wait to share them with you.
4. GoogleReader. I told you in my bloggy manifesto that I cleaned out my feedreader. Well, what I didn't tell you is that I acutally had TWO feedreaders…a bloglines and a googlereader. Both filled to the brim. Now I've just been using GoogleReader. And I like it. If I finally figure it all out, I might do a tutorial on it because I looked everywhere online for one and couldn't find one that really explained anything.
5. Survivor: The Blogosphere. My friend Sarah is having a blogging conference retreat in North Carolina. I just asked my sisterchicks if they'd like to go. It sounds so fun—blogging info (including great speakers like Maria Bailey), the mountains of NC and some spa action! Plus we've been talking about a sisterchick blog for awhile…whad'ya think?
6. Misty's SENSEsational Swap! I haven't done a swap in forever and when I saw Misty's I had to join! It's based on the five senses and it's a family swap–meaning Lydia and I will make/find/buy stuff for another family. I think the swap is closed now, but you'll want to head over to Misty's anyway–because she's just lovely.
7. Pushing Daisies final three episodes are online! Well, only the final-final episode is on hulu or fancast. But you can buy them on itunes. We've already watched one of them. I tried not to cry too hard during it. It was delicious as usual. I think I'll do a three episode recap after I've watched them all.
8. MomTV I haven't vlogged in forever. And now MomTV is up and I haven't even done ONE thing with it. I'd love to do a live show. How fun would that be? Have you watched one yet? You can watch the speaker live, then chat while they are talking AND you can be live on your webcam, too. Cool, huh? I want to do one. Now, if only I could think of something worthwhile to talk about…
9. OK, fine. Impress Your Kids' new domain. You can have a sneak peek…and subscribe to the feed.
10. Your Top Ten list for today. (see below!)
:: :: ::
OK, let's see it! What's YOUR Top Ten today? Post a list on your blog, link it up here on the MCKlinky and start commenting & visiting away!