So, it's week two of oh! ho! ho! And I've had a fun bloggy week! It's been cool to interact with some new "faces" and I've really enjoyed your comments about my trash can and carpet. Highly entertaining.
But let's get back to the real issue–Christmas. It's a mere 6 weeks (give or take a few days) till Christmas! And the one thing I look forward to as the holiday approaches is Christmas cards! I like them all–the plain old cards with foil snowflakes on the front, the photo cards from Wal-Mart and the homemade crafted scrapbooky cards. I keep my Christmas photo cards up on the fridge all year. It makes for a messy fridge–but it's homey and fun to remember all my loved ones all around the country. Out of the 24 pictures on my fridge 14 of them live out of state. That's the blessing & curse of living in 5 states in the last 9 years.
I try to do something different with my Christmas cards every year. Ok, when I say "try", what I really mean is that I've always waited too late to do my Christmas cards every year and end up doing something different on accident.
One year we did the newsletter. You know, used the template in Publisher and had a column about me, a column about Les, a column about our job. The next year we did the old Wal-Mart picture card. I wish I still had one of those because it was a good picture of us! Last year, I heard about someone who let everyone in their family pick a Top Ten List of their year. So, we did that. I made it all pretty with some digital scrapbooking stuff. And it looked good, if I do say so myself.
2006 was a huge year. Lydia was born, my dad was diagnosed with cancer, both my grandmothers died, we quit our job, put our house up for sale and moved. So, condensing a year into a Top Ten was pretty easy–and a lot shorter than the book it could have been. But I think this would be fun for a big family–letting everyone pick their top ten events.
Of course, I couldn't figure out how to print that thing at a decent price, so we ended up sending this instead: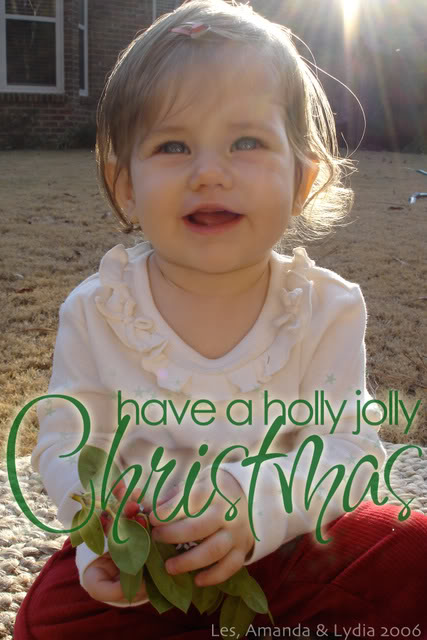 That was a pretty good trade, huh? She's a cutie.
This year, I'm still trying to decide what to do. I was thinking about The Twelve Months of Lydia (a la The Twelve Days of Christmas) and having 12 pictures of Lydia through the year. Or maybe a digital slideshow on a disc with our favorite Christmas song instead of a Christmas card. Or one of my new favorite ideas is sending a postcard with a Christmas Card Blog address. I could upload as many pictures as I wanted. People could leave comments and it'd be cheap and easy! And as usual, I found some cute homemade ones on Family.com–aybe when Lydia's older.
But if I was rich–I'd send these cards:
Or maybe these. Or these. No, wait! These! These are the most amazing pop-up cards from Robert Sabuda. He is a New York Times Best-selling author/artist for the best pop-up books EVER. Including some amazing (and my favorite) Christmas books. I've been trying to collect one every year because they are kinda expensive. (I hit up all the stores after Christmas to see if they are on sale. You have to be quick, though because they get snatched up quickly!) I just think these are great conversation starters for guests and they somehow capture the magic of Christmas. I can't wait to share them with Lydia!
Onto the giveaway, I was thinking about making asking you to write a post about Christmas cards and linking back to here. Then I'd judge and/or randomly pick someone to give the prize to. But honestly, how long of a post can you write about Christmas cards (besides this monstrosity)? So, just leave me a comment and let me know your Christmas card plan–do you do 'em? when do you send them out? do you do a picture? what's the best cards you've sent or received? Or whatever. And I'll pick a winner and announce it on Friday.
Oh! You want to know what you win? One pack of Robert Sabuda's Christmas cards. It's only 8 cards but they are MAGNIFICENT (and they cost $20!). I'm already jealous of whoever is going to win them. If you win feel free to send one back to me as a thank you. KIDDING.
Happy Oh! Ho! Ho! Thanks for playing!