I've been reading the book of Psalms really faithfully for over a year now. It's that 5-a-day thing I was telling you about awhile ago.
There are many themes throughout the 150 songs in this part of the Bible, but the one I see over and over again is this word:
REFUGE
Our world has been inundated with the word "refugee" but have you stopped to think about the word refuge?
Refuge is a little bit more than getting under an umbrella when it's raining.
It's being destroyed by disaster, chased by enemies, oppressed, trapped and then suddenly protected, covered, delivered, saved and helped by something, nay, Someone greater than yourself and even greater than your catastrophe.
Refuge makes me think of being lost at sea until I see this:
Or chased by rogue warriors, until this appears:
Have you ever needed a place like that? To be up above, totally out of, wrapped inside and absolutely away from your problem?
What about this?
Does this look like a refuge to you?
Wait.
How 'bout this?
Look at that mother swan!
Her baby is under her wing and she's swimming!
She's crossing the water while her baby is safely under and on her wing.
The little chick is protected behind and before and not doing any work at all.
Now, that's a refuge!
God gave us this picture in the Bible. He gives himself this winged mother description throughout the Psalms (see 36:7, 57:1 and 61:4) and promises to cover us with his feathers.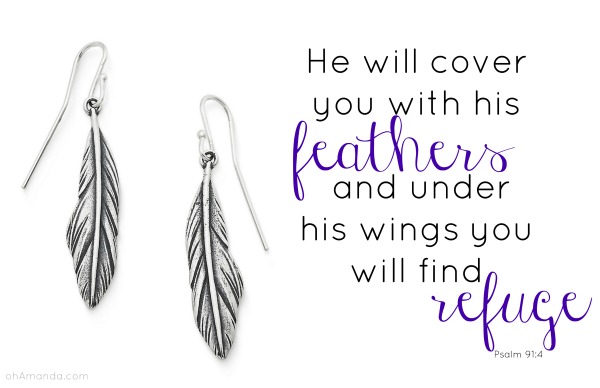 On the days when I am overwhelmed, outside my abilities, totally unsure and absolutely over it, God swoops in and tucks me under his wings, covers me with his feathers and crosses the water for me!
Dear friend, as you attempt to paddle through the hard thing in your life today, as the waves and wind beat against you, call out to God. He will cover you with his feathers. Under His wings you will find refuge.
Note: The earrings shown above were a gift from James Avery. Their heart is to give story to jewelry, to put reminders and memories around your wrists and on your fingers and ears. What reminder do you need today? Look through James Avery's gorgeous site and put a reminder of God's protection, His attention and His love for you where you can see it every day! Thank you, James Avery!
Family Time Connection: Take a walk outside with your kids and look for feathers. If you can't find any, look for signs of birds–flying around, making nests, etc. Then, read through some of the Scriptures that talk about God protecting us with feathers (there are over 40 in the Psalms!) After reading, pick one of them to write on a piece of paper. If you have any feathers (or even a craft feather or can pull one out of a down pillow), glue it on the paper and hang it up on the fridge or bulletin board. Every time you see it, read the verse out loud (and instruct your kids to do the same), then thank God for his protection.