This post includes affiliate links. When you make a puchase via these links, I receive a small percentage. Very small but very appreciated. Thanks for loving ohAmanda!
Since we moved into the apartment we've tried all the TV-streaming-things: Hulu, Amazon Prime, the CBS app (for Survivor, y'all!), the Disney Jr app, Netflix and now Jelly Telly! Do you know about Jelly Telly? It's basically a Netflix-like app full of curated kids' shows with Christian themes and messages.
My kids are in love with it. And it makes me happy, too. Here's some of our favorite shows so far..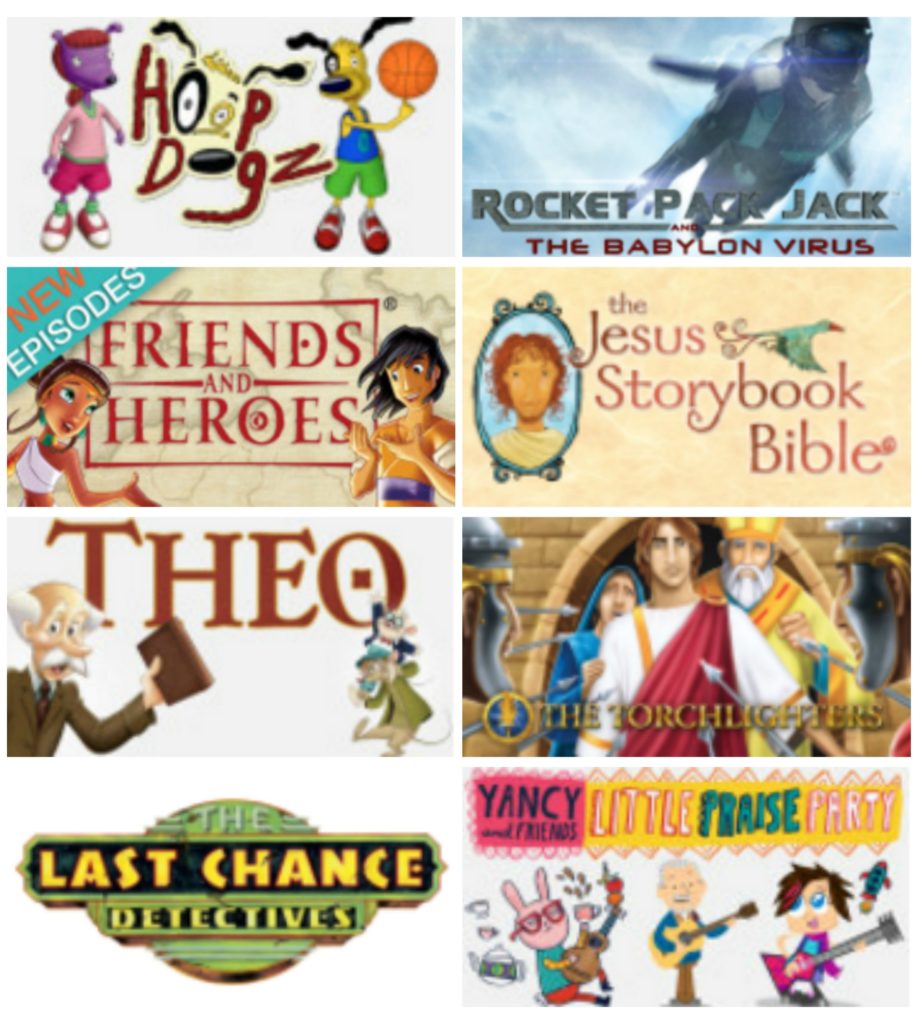 Friends and Heroes: Set in early Christian days, a group of Jewish kids and their Roman friend learn about Jewish and Christian heroes. It's exciting, has good animation and there are like 30 episodes to choose from.
Superbook: This is one of our all-time faves. If you grew up as a Christian in the 70's and 80's you'll remember this show. It's been completely redone with computer animation and modern stories. It's the best.
Owlegories: Hooo, hooo, hooo! My kids love Owlegories! They are short episodes about little owls who learn about God's Word through nature.
Last Chance Detectives: This is a live-action show about a gang of kids who solve mysteries in their small town in Arizona. It's based on some audio dramas from Focus on the Family and they are super exciting.
Theo: I adore Theo. They are short cartoons about two silly mice who learn about theology from a kindly old man while he tells Bible stories and more. The animation is so beautiful and it's a quiet, sweet show with really precise language and teaching.
Hoop Dogz: These remind me of some old Nickelodeon shows like Doug and…well, I can't remember any of the other ones but, the animation is fun and bright. Each show is about one of the ten commandments (although there are only like four episodes…) and it is hilarious. Two of the characters are televangelists. So.
Rocket Pack Jack: This is actually just an hour long movie from one of the Lifeway VBS themes a few years ago, but it was really fun. Asa made me look it up as soon as it was done to see if there was a Part 2!
The Jesus Storybook Bible: HELLO! The animated audio versions of the book!
Torchlighters: This is my new fave. It's basically the stories of famous Christians and missionaries. We watched the Gladys Alyward one and I cried right through it. The kids loved it and even brought it up later that day because the story is so moving.
Yancy: Yes! Yancy! All the sing-a-long videos she has are available to watch. Talk about a dance party in your living room!
Plus,  shows like Pahapahooey Island (a puppet show!), Angel Wars (a decent computer animated show about armor-wearing angels), Junior's Giants, 321 Penguins, The Nature of God (think Discovery Channel with a Creation-twist!) and a bunch of fun shows from my all-time favorite What's in the Bible? and several Veggie Tales!
There are tons of preschool shows and a few shorts that feel like maybe they were made for a church curriculum (like Timbuktoons!) but are still cute and fun, Christmas and Easter movies and more!
Wanna see how we stream Jelly Telly at our house? Check out this fun video (of me!!) on the Jelly Telly Facebook page!
Then sign up for a FREE WEEK of Jelly Telly right here!