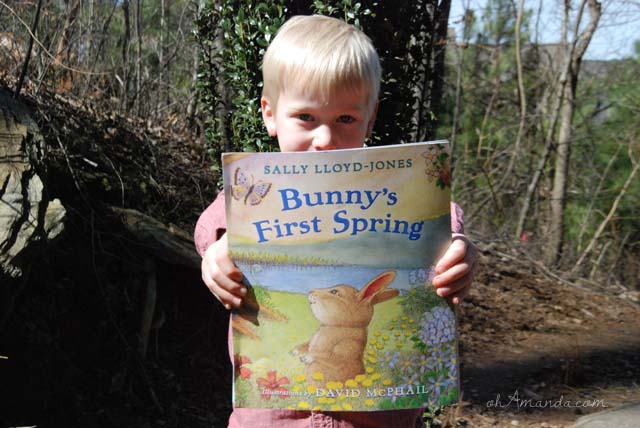 The last few days have been aaaallllmost spring-like. It's 63 today and even though the prediction is a week of rain, I'll take it over the frigid temperatures from last week. So, even though the ground is brown and the grass dead, new life seems just around the corner.
And that's why I love this new book, Bunny's First Spring by Sally Lloyd-Jones. We were literally still doing Truth in the Tinsel and this spring book arrived. I thought it might be a spring-summer-winter-fall book. Or a story about colors and flowers. And it is. But, really? It's about Jesus and the resurrection. The death of our Savior and the promise of new life to come.
A little bunny is born in the midst of the blooming, growing spring. And as the seasons change, he wonders about his friends leaving, the trees dying and the cold, brutal weather.
As I read this book in December, I saw the words and word-pictures she chose–an apple tree standing alone like a skeleton, fear in the bunny's heart because the world was dying but the owl hooting, "Not True-Not True!". The frozen streams and dead grasses crying, "we're not dead, we're only sleeping!"
This simple story is every word a parable to what the people felt around Jesus and His death. Jesus was dead. His disciples devastated. The women mourning and doing what mourners do with spices and herbs. They hid away and didn't move for days. But the heavenly hosts, oh they must have been singing, "Not yet! Not true! He's only sleeping!"
Hidden. But not gone. NOT GONE.
Jesus was dead, friends. Dead, dead. There was no Easter Sunday service planned. There were no baskets, no new clothes, no resurrection songs to be sung.
And when that earthquake came? When the stone was rolled away? And Jesus conquered death? No one saw it. No one knew it. He came as quietly as a new bud or a blade of grass.
When the little bunny awakes from his hibernation he looks around and,
"The ice was melting.
The soil was cracking.
Like a spell breaking.

Tiny earthquakes everywhere!"
Spring arrives with dancing animals and new grass, leaves and birds. "It is the birthday of the world!" the bunny exclaims to his mama. Yes. Jesus' life, the fact that he walked out of that tomb, is a birthday for the whole world. A new day, a new life for us. A new life for your children.
The book ends with this quote:
"God has written the promise of new life not just in books alone, but in every leaf in springtime." -Martin Luther (paraphrased)
When you read this book (because you have to get it!), when you look at flowers and green grass for the first time this spring, when you smell that springiness in the air, remind them that Jesus is the new life. Let them see Jesus in every "new leaf in springtime."
Affiliate links included. When you purchase anything via these links, I make a small commission. Very small. But very appreciated. Thanks for loving ohAmanda!