Easter is almost here!
I wish Easter was like Christmas where you always knew what day it was. Instead it's some nebulous, 3rd week of so-and-so or something. Anyway, in case you didn't know Easter Sunday (or Resurrection Day, as I like to call it) is April 20th. Which is exactly four weeks minus one day.
THAT MEANS YOU HAVE LESS THAN ONE MONTH TO GET READY! Today is equivalent to December 1st, friends! The kids and I  are beginning our Sense of the Resurrection activities today and we could have started sooner if I'd gone by my kids' insistence ("When are we going to start our Resurrection day stuff? Can we do it today? Can we do it now? When? When?!!").
We'll be doing the first three activities this week, then three every week until Easter. Monday, Wednesday, Friday would be ideal but Monday and Wednesday are our long school-ballet-gymnastics days and I don't know if we can squeeze a whole activity in. So, I'm going to use the printable flags on the in between days. For example, I may have the kids decorate the flag today, talk about what the story might be (they'll already know, but it will be fun to hear them tell it to me) and get them excited about doing the activity the next day.
Or you could do it the opposite and do the activity first. Then the next day, have the kids decorate the flag reviewing and re-telling the story in their own words.
Or you could do the flag as an introduction/clue to the activity on the same day.
Or decorate the flag at breakfast and do the activity after dinner as a family.
There are so many fun possibilities! Plus, there are so many fun ways to display these cute printables! I set up a few around the house this weekend (which really got the kids salivating to start Sense of the Resurrection!) and I'm in love with how cute they are.
Wanna see some fun ideas?
1.  The easiest way is to just print, decorate according to the fun suggestions in the book, cut and tape them to a piece of twine/ribbon. Easy peasy and super cute.
2. You could also cut out another larger piece of pretty cardstock/scrapbook/construction paper and glue that to the back of the printable.
3. I also used the printer settings on my printer and shrunk them down so four of them fit on one page and LOOK HOW CUTE THEY ARE! This would be fun if you had multiple kids and wanted to cut down on the space needed for 4 or 5 sets of flags! (And also, how adorable are those mini flower and butterfly clothespins?)
4. My new favorite way to do it is to make some bunting out of cardstock and cut out just the picture to display.
Cool, huh? And making that bunting is super-easy. Wanna see? Just grab a piece of 12×12 scrapbook paper. Then…

Once you've got a nice little folded square, cut from the top folded corner to the middle of the open edge to essentially cut off one corner. See below…
Now, keep going…

Then, just drop it over a ribbon you've hung up on a stairwell, mantle or under a window. Isn't that easy and adorable?!
 I'm kinda in love with it.
And hey–you don't have to do any of this! These are just fun, extra ways to add some creativity to your celebration and a little more emphasis as you experience the story of the resurrection this year!
If you haven't bought your copy of A Sense of the Resurrection, you need to do so now! This week only (March 24-30), you can use code OHEASTER to get 20% off your ebook! So, go! Go now!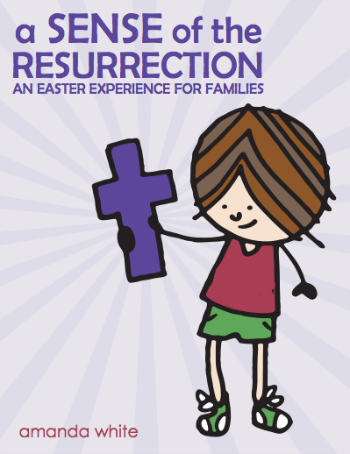 A Sense of the Resurrection: an Easter Experience for Families
A Sense of the Resurrection is a journey through the death and resurrection of Jesus. Parents and children will make memories as they use their five senses to discover the real story celebrated on Easter.
Don't forget to join us on our Facebook page, Twitter, Google+ or Instagram with the hashtag #SenseoftheResurrection, to share your Easter experience with everyone! It's always fun and encouraging to see families doing the same activities all over the world!