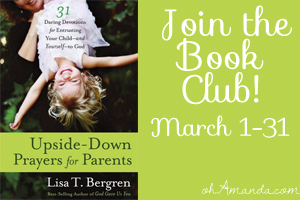 The Upside Down Prayers book club begins today! I'll be updating every day on Facebook with my thoughts and maybe even a little pinnable/sharable graphic so you can screenshot it on your phone and keep it all day long.
However, I know some of you aren't on Facebook (or have given it up for Lent–good for you!) so, I'll also be checking in on Twitter and Instagram (#UDPrayers) and pinning the prayer/quote on Pinterest. You can click or like or repin or leave a comment or whatever you do to join in. If you're not on one of those, well, you'll just have to know that we are all praying together and bring our kids to the feet of Jesus right along with you. What an adventure!
If you haven't grabbed your book, you can still get it at the Waterbrook site. Or grab the Kindle version on Amazon and start reading it right now!
To whet your appetite, here's the prayer for day 1…
{Wanna pin or share it and spread the word? Just think of all the mamas praying for this for their kids today!}