You know I'm a big fan of hanging up Scripture in your house. I loved Truth in the Tinsel because our house was covered with decorations that showed the story of Christmas straight from the Bible. For this series, we will be making (or doing) things that will help us remember an aspect of the Easter story. Each of the activities will have to do with one of our 5 senses (2 each, 10 activities in all) hence the name, A Sense of the Resurrection! I pray our kids will use their senses to experience the greatest story every told!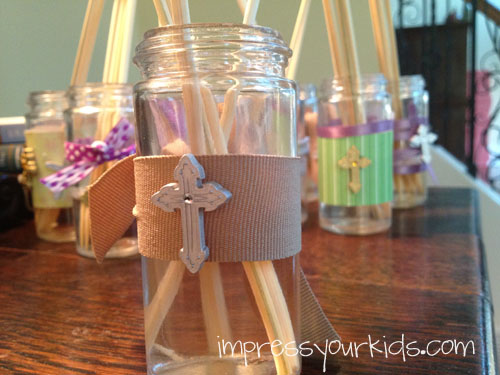 Today we're going to start at the beginning of the Easter story–when Mary anoints Jesus for burial. We sat down on the couch and read the story from both John 12 and Matthew 26 (some say its the same story in Luke 7). Jesus is at Simon the Leper's house when Mary enters with an expensive jar of perfume which she breaks and pours over Jesus' feet. Judas and many others are disgruntled at Mary's waste when there are poor people to be fed. Jesus stands up for Mary and says that she is anointing him for burial.
As we read, I told the kids to listen to something you could smell, touch, taste, see or feel. Lydia started sniffing loudly when she heard the word perfume!  That same part is what stuck out to me (and led me to this whole 5 senses idea). John 12:3 says, "And the house was filled with the fragrance of the perfume." How cool to have a reminder of Jesus' burial as a scent filling your house! So, we made our own reed diffusers to spread a beautiful perfume through our house.
All you need is some bamboo skewers (or actual reeds, of course), some small mouthed jars (mine were from a spice rack I found at the thrift store for $2) and some liquid potpurri (or make your own scent from essential oils, etc.). I found liquid potpurri at the dollar store and at Wal-Mart for $3. It's not Scentsy, but it gets the job done!
As I cut the bamboo skewers to be a more manageable size, the kids decorated our jars. We grabbed some scrapbook paper, ribbon and cross stickers. They wrapped, tied and decorated all different designs until the jars looked beautiful enough to give as a gift!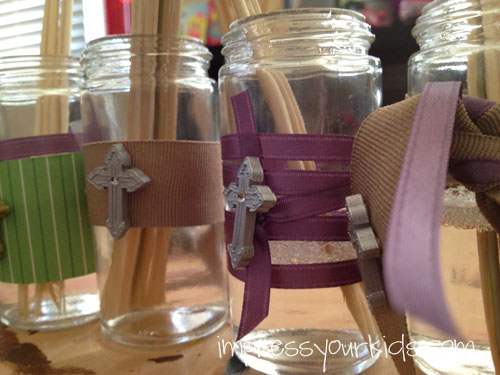 As we wrapped (and actually, as we rode to the store to buy our "perfume") we talked about the story. I asked them if they remembered another story of someone being anointed. "David!", Lydia shouted. We discussed how David and Jesus were both kings and kings were anointed with oil. But why would Jesus be anointed on his feet and not his head?
Well, I don't know if this is actually Biblical, or arguing from silence (a big no-no from my Bible College days), I think Mary anointed Jesus' feet to give us a picture of our Servant King. Jesus was anointed as King and anointed for burial at the same time. Jesus came not to be served, but to serve.  In the next chapter of John, we actually see Jesus bending down to wash his own disciples feet. How appropriate for our King to have his feet anointed with oil. He is our servant King. The only King willing to die for His people.
When our perfume bottles were finished (filled with about an inch or two of the liquid potpurri & about 4 bamboo skewers), we put one in every room of our house. Now, hen we walk into a room and smell the beautiful scent, we will remember Jesus being anointed as our Servant King…as the one who would soon die for us!
The kids absolutely loved this and were so excited and appropriately serious when we talked about Mary, Jesus and anointing. That night we crawled into Asa's bed and I was looking through our Beginning Reader's Bible to see if this story was in there. Lydia said, "It's in our Jesus book." I said, "I don't think so, Lydia. I would remember that." Well, I guess my memory is slipping! Sure enough, she opened it up and found it!
Reading this story from the Jesus Storybook Bible was the perfect ending to our day. It was an emotional read…Mary taking Jesus' feet in her hands, crying over them, wiping them with her hair and anointing Him for death. I'm excited that our perfume will be in the house for the next few weeks,  so just as Mary prepared Jesus for burial, the scent of this perfume will help prepare our hearts for Good Friday and Resurrection Sunday!
Thank you, Jesus for being our Servant King! For dying for us, your people!
Want more Sense of the Resurrection? Download your ebook now–>