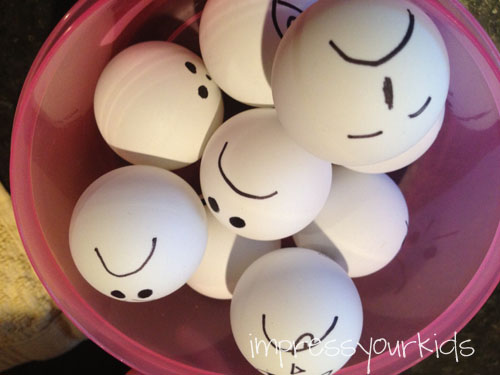 This morning (like before breakfast!) I put a bowl in front of the kids. I told them it was them–their heart and their mind. We began to talk about what "purity" is–about being clean of body and mind–without any yucky stuff inside. Then we thought up impure thoughts and actions–saying mean things, listening to someone say a bad joke about someone else, watching something on TV that's bad, etc. We drew sad and mean faces on some ping pong balls as we talked about them. We dropped each ping pong ball into the bowl. Soon our bowl was full!
I asked the kids how we could get these bad things out of our hearts and minds. They wanted to just scoop them out with their hands. I told them this is why impure thoughts and ideas are so bad–you can't just get rid of them! They will not leave on their own!
So, how do we get this impurity out? Psalm 119:9 tells us, "How can a young man keep his way pure? By living according to your word." (NIV) It's God's Word that makes our minds clean and pure.
We poured clean water into our little bowl to represent God's Word cleaning our minds and hearts. The more water we added, the more the impure thoughts and actions rose to the top and fell off!
The kids thought this was hilarious because the ping pong balls were falling all over the kitchen! I love this picture–it's not the picture of salvation (Jesus' washing our sins away) but of how God's Word can keep our physical minds clean and pure! I want my kids living by, keeping, holding onto and filling their minds with God's Word so the impure things won't have a place to stick!
This would also be a perfect activity to do if your children had been watching, doing or saying something impure. You could learn some specific scriptures that would help "wash" the impure thoughts out and say them as you do this activity.