I've been perusing Pinterest for fun Super Hero activities. Mainly I get distracted by the gobs of adorable Super Hero cakes and birthday parties! Anywhoo, I finally found THE BEST tutorial ever: How To Make a Super Hero Cape From an Old Tshirt from See Cate Create!
I made one for Asa today and I think it is fabulous. Here's my…
Top Ten Steps To making a SUPER Easy No Sew Super Hero Costume
1. Dig around in your closet until you find some old t-shirts.  I found one with an iron-on from my dad's 50th birthday (6 years ago) and a hideously orange shirt from a VBS I did.
2. Pick the shirt with the smallest logo. Or a blank one.
3. Grab your fabric scissors. This will make it easier. I speak from experience.

4. Follow directions from See Cate Create. It's crazy easy.
5. Glue your Super Hero crest to the back. I guess you could sew it, but you know me, glue and duct tape are my methods of choice.
6. Slide your new cape over your head your kids' head and start being SUPER!
7. Print off the Super Hero mask template from Living Locurto and cut it out of felt or craft foam. I used yarn to tie it to Asa's head, but I think some of that thin elastic would be easier.
8. Then chase your son around trying to get him to put the costume on and pose for you.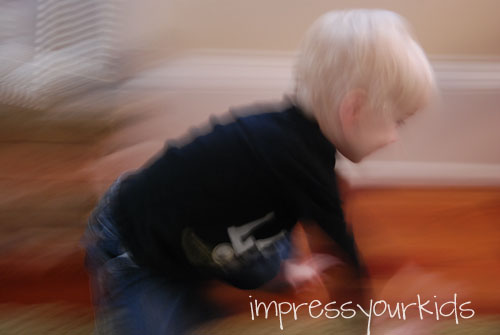 9. Seriously, this was the easiest thing I've ever made. It took like 2.5 minutes total. And that includes printing off the mask template!
10. OK. That's all. Aren't you glad you stick around here every day? I'm full of great ideas! I find all sorts of great ideas!