Thank you! THANK YOU! I am totally giddy with excitement about how well received Truth in the Tinsel has been! I hope you've bought the book and joined the Facebook page. It is going to be SO fun to do this whole advent-ure together!
I have literally been GLUED to my computer since the release of Truth in the Tinsel. Reading about all the fun advent calendars and cool ideas you've come up with to do with Truth in the Tinsel has made me in full Christmas mode! I'm thinkin' the rest of the year Impress Your Kids will be devoted to Christmas. Will that be ok? (Seriously, I feel like I might start dressing in red and green from now on!)
Today, Lydia came home with the most fun ornament! I love Lydia's teachers because they are always sending extra fun things home to do with the kids–we always get papers about fun food crafts and even songs and fingerplays. This would be a fun gift or just a fun activity to do with your kiddos!
All you need is a clear glass ball ornament, about 1 teaspoon of popcorn kernels and a paper bag. Take the top off the ornament and fill the ornament with about 1 teaspoon of popcorn. Put the ornament inside the paper bag and fold down. Put bag in microwave for 1-3 minutes (ours took about 2.5 minutes).
Take it out of the microwave and…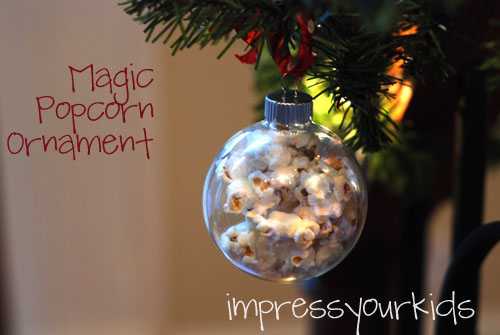 Is that not the cutest thing you've ever seen?! The kids thought it was magic. Wonder if you could do it with colored popcorn? That would be fun!