It's been too long since I've posted! I told you about my brother's house burning down and want to thank you for the fabulous comments. I passed them on to my sister-in-law and I know she appreciated them. This past week, my brother, sister-in-law and 7 year old niece have been living with us.
We've had a fun time staying up late, playing all day and eating dinner together. And I've been keeping my niece during the day while her parents work. Being a sudden mom of 3? Trying to think of activities to do for a 7 year old when you're used to a 2 year old? It's been tougher than I thought!
I had hoped we'd do all kinds of things to blog about. But mostly, we went bowling, saw a puppet show at the library (all though, I did blog about that on my personal blog!) and generally located all the free or nearly free stuff for kids to do around town! One afternoon, however, we made SIDEWALK CHALK PAINT!
I had seen this on Pinterest several times and knew I wanted to make it. But when I finally read the instructions, I almost laughed! There's nothing to it! In fact, after leaving our sidewalk chalk out in the rain several times and noticing how bright it writes when water-logged, I should have known how to do it. Are you ready for this?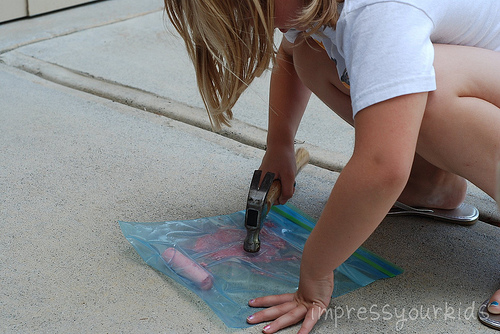 First, put a piece of sidewalk chalk into a plastic bag. Then let your kids whack it into a (semi-) fine powder with a hammer. This may have been the most exciting part of the day. This is my niece, Nora showing us how it's done!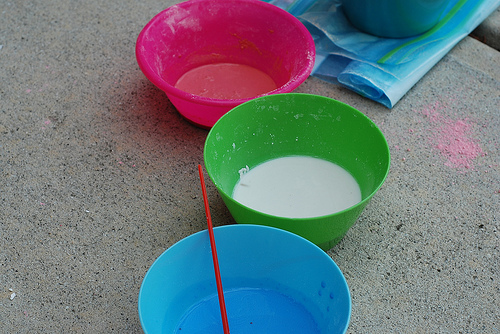 Next, pour your sidewalk chalk powder into a bowl and add a little water. (We tried to do matching bowls, see the blue in the blue bowl? Pink in the pink bowl? The kids thought that was pretty smart!)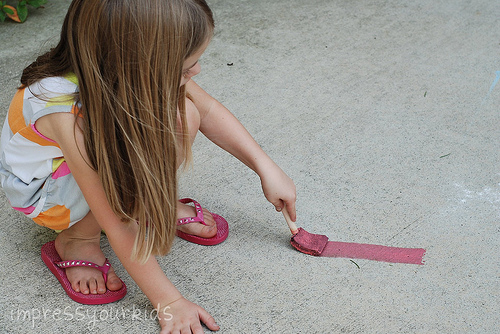 Once you stir it around, grab a paint brush and start painting! It is so much brighter and more vivid than regular chalk! And it seemed to last so much longer, too!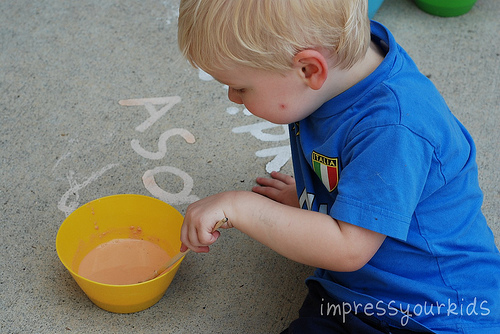 Even the plain colors like white and orange seemed to pop when added to water! The kids didn't really paint any great creations. They were just more interested in making marks on the sidewalk, flicking their brushes to make splatter paint and then of course, painting themselves!
It was a fun activity for a Super Sunny Day!
See all our Super Sunny Day posts here—>