Mother's Day ends up being a day where MOMS make crafts with their kids! Is that how it is at your house? I have 3 other "moms" in my life (aunts, sisters-in-law, mothers-in-law, etc.) who I want to honor and have my kids honor!
This year I found these cute Toast Tongs craft in Clubhouse Jr (<—seriously, have you subscribed yet?). It is incredibly easy, personal and pretty creative! You know what Toast Tongs are, right? I have some bamboo tongs from Pampered Chef and they are my favorite thing ever–a teeny tiny wooden set of tongs so you don't burn your fingers in the toaster when you're getting toast out!
We made them today and I was going to write a detailed tutorial but honestly, it's like the easiest thing ever. But, I'll give you a 1, 2, 3 anyway…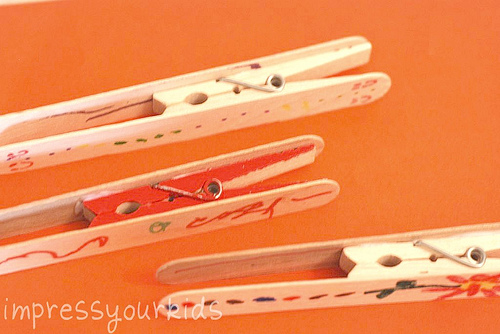 Supplies needed: large craft sticks (the fat ones!), wooden clothespins, markers & craft glue
1. Let your kids color on the craft sticks (one or both sides). Lydia made lots of pretty patterns while Asa drew one squiggly line each.
2. Glue the craft stick to the clothespin with the end of the clothespin (the part you squeeze) to the ends of the craft stick.  I let Lydia decorate one side and Asa the other.
3. That's it! See why I couldn't write a long tutorial? Super Duper easy, as Lydia would say!
We are going to couple these tongs with some homemade bread, a jar of jelly and maybe a cute kitchen towel wrapped around it!