We have read The Jesus Storybook Bible
so many times that sadly, my kids think THAT is the Bible. And there are some Bible stories they don't know because we've never read them! I'm always on the lookout for new Bible storybooks that aren't too cheesy or watered down.
This week I got the The Beginning Reader's Bible
from Thomas Nelson*. And oh, wow, do I love it! It's gorgeous–a huge book that's perfect for laps and for sharing with lots of eager eyes. It even has a bookmark (which Lydia looooves).
It's actually a real-life Bible with scriptures not stories. The difference is each "story" is told in just a handful of actual scriptures. We chose to read Nehemiah (which the kids didn't know!) and the story was a collection of about 30 scriptures taken directly from the book of Nehemiah. The kids got the basic gist of the story and heard the actual words of scripture, too. (The scriptures are taken from the International Children's Bible which I don't know a lot about because I usually use the New International Reader's Version. But so far, so good.)
We've begun reading this as Asa's bedtime story. Then the next day we'll do an activity based on the story. This is super easy because each story comes with a scripture to memorize, a scripture to pray (LOVE THIS) and an activity labeled, "Do God's Word". (LOVE LOVE LOVE THIS!)
For Nehemiah, the activity was to make a wall out of pillows and then get inside and pray–thanking God for protecting and surrounding us like a wall. So, we collected some every single pillow in our house and made a wall.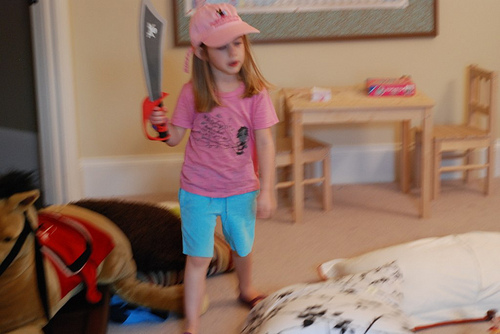 After we read the story again, we decided to get out our swords and build the wall with one hand on our weapons! (4:17-18)
We hopped inside our wall again and held hands. I had the kids repeat a prayer (which is like the cutest thing ever when a 2.5 year old is repeating things like "Nehemiah" and "protection"). They stayed inside the wall for at least an hour–they played with animals, pretended to go night-night and even played doctor.
I loved that they felt comfortable in their little wall. I pray they always feel the protection and comfort of God their Father!
Disclosure: I received this book as part of the Tommy Mommy Club. As always opinions are my own.