Good morning from California! (I love saying that!) Right now I'm sitting in my hotel room eating a dark chocolate almond turtle (yes, before breakfast) and thinking about shoeboxes. My home church has done shoeboxes for years. I remember my mom and one other pastor going to the store with several grocery carts and filling them to overflowing with supplies. They'd set up an assembly line and lead the kids of our church in packing hundreds of boxes.
The first time I ever did my very own box was last year. I loved watching Lydia pick out toys, color a picture and pray over her box. What I never ever thought of was what happened to my box AFTER it left my hands. I even told Lydia this year, "Just think! The next hands that touches this box will be a little girl getting it for Christmas!"
I could not have been more wrong!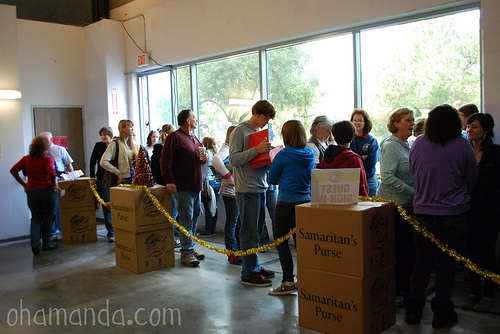 After one day at the processing center I saw just how many hands touch that one box. When we arrived at the warehouse-turned-processing-center (these are usually temporary locations each year) we saw a line of volunteers waiting to sign in and put on their name tags. Everyone was as happy as if they were working in Santa's very own workshop. They were taking pictures, laughing and smiling. Registration to volunteer in the processing center opens in August and fills up almost immediately!
We were ushered into a training room with about 20 other people. They do this training in shifts so we can really see what's going on. They set up a mock processing table, gave volunteers signs around their necks with their "titles" and then we followed a box through a process. (I just love a good training!)
Ready to follow the box?
the fabulous Tricia from 24/7moms!
First, there's a pre-sorter who opens up the box, takes out the $7 donation and drops it in a giant locked trunk.
the blogger formerly known as Mommy Snacks: Andrea from Savings Lifestyle
Next, there are the sorters (or what I like to call the inappropriate-item-taker-outers). These people look at every item and make sure there are no breakable items, liquid, food or other strange and inappropriate items. Our most favorite yesterday? A can of sardines. *shudder*
the unstoppable Sarah from Real Life Blog and the delightful Christine from Dates To Diapers
The box then goes to the taper. They tape the box up making sure not to cover the Boy/Girl label and send it on to…
the fantastic Jessica from Muthering Heights and another volunteer attempting to pack a box!
The Packer! This person puts the box in one of six boxes based on age and gender. It doesn't sound like a hard job, but when you have to get at least 14 shoeboxes to fit happily in one giant box while every box is a different size, it's like a puzzle! Or geometry or something.
This was my job!!
The very last person is the scanner–they scan all the boxes and cartons that have been labeled with a barcode from the EZ Give. If a person packs a box and donates their $7 online, they print out a barcode to attach to their box so they can follow their box to the child. Isn't that cool?
Then there are the guys who pack up the cartons and send it down the rolling belt to the guys who pack them into trailers that send them to shipping companies that ship them to the churches that give them to the kids. *whew*
So, total number of hands that touch a box? Counting the person who originally donated it? At least 8. Eight people for every child! I don't know why but this floored me. The amazing system they have set up for making sure a little shoebox full of dollar-store-items gets to a needy child is just astounding.
Our little crew of processors were probably the worst and slowest there because we kept stopping to take picutres or tweet or ask a question. And as we looked around I saw so many different kinds of people—ladies in prayer caps, teenagers with ipods in their ears, grandparents with Christmas sweatshirts, big burly guys with long hair and tattoos and moms who left their kids with babysitters to be there. It was amazing to think about the love these people had–to give up a day to process boxes!
The more we processed and the more I saw people working the more I saw the boxes as children. Each box was being processed–but really it was the child that was being loved. When you pack a shoebox, you are joining with a community of people to love and give to a child in need! That child will never know what went into their box—but they will know the love that God has for them because of the small work that others have done!
Pack a shoebox today!