I love the idea of a birthday box—a special box full of birthday books that you only pull out once a year. I first heard of this idea from Vanessa (my irl friend and awesome contributor here on IYK) and she has some awesome birthday book suggestions on her blog.
My son's birthday is coming up and I've started collecting some birthday books for him. (OK, mainly just the ones we already own.) One of my favorite birthday books is a little I Can Read Book called, Happy Birthday Barnabas by Royden Lepp.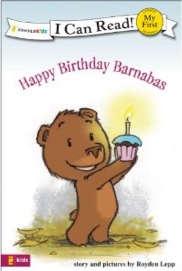 It's the story of a little bear who sees his forest friends walk by with cupcakes, crayons and other "suspicious" items. Finally, he follows them to see they've set up a party just for him! Barnabas is so happy he stops and leads his friends in a prayer, "Thank you God for birthdays, cupcakes and tea time with friends." (<—sorry about that big spoiler!)
It's a simple little book but I love the sweetness of it! I had pictured the author/illustrator, Royden Lepp to be a grandfatherly man who sipped tea while sketching in front of his fireplace. Instead, (after I googled him today) I discovered he is a man with eclectic interests–including photographing reptiles and drawing realistic warrior images from the Bible. Very cool. I just love the extremes of this fuzzy little Barnabas and a drawing of a scary looking Goliath. (Really, check out his blog to see his portfolio!)
There are several Barnabas books in the series—in each one, it looks like Barnabas is always looking for a way (and finds it) to praise God. The name Barnabas means "encourager". So, maybe that's the reason for these books? To encourage kids? To show how easy it is to encourage yourself by thanking God for his blessings? Regardless, they are fun books your kids will love!
Do you have any good birthday books to share?
Our Shoes2Share linky goes live on MONDAY. Don't forget to collect some shoes (even from your own closets). Let's see how many shoes the Impress Your Kids community can collect!

linked to Feed Me Book Friday