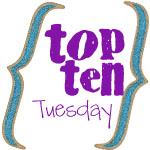 1. The Patriot
One of my favorite movies. It's so bittersweet it makes my heart hurt thinking about it. And Mel Gibson? He's hardcore in this one. The worst/best part is when he and his two young sons are watching a troop of redcoats in the woods. He asks his son, "Do you know which ones the officers are? Shoot them first." And the little boy is just stricken. Bloody? Oh my, yes.
2. Gladiator

Russel Crowe is amazing in this movie. Joaquin Phoenix is sick. Awesome sick. For a period piece it's also got a modern feel to it—the camera work is really interesting. It's just a fantastic film.
3. Defiance

This is the film that inspired this list. It's a World War II story about a group of Jews that rebel and refuse to go quietly. They end up living in the woods for years and surviving by raiding farms and cities. I'm partial to any World War II story but this one was true and just so inspiring. Oh, and bloody.
4. Saw
I can't put a picture of this DVD on here. It's too scary. I did not remotely want to see this movie. I don't do horror or gore. But one of my friends (a pastor at the time) said I HAD to see it. So, we headed over to their house and had a Saw party. (I'm kidding, we just watched it. There were no Saw cookies.) But I totally liked this movie. It was gory, yes. But it also had an Alfred Hitchcock creepiness to it. Plus Westley is in it. Like Princess Bride Westly. "As you wish…"
5. The Passion of the Christ
Bloody. Oh, this may be one of the bloodiest yet. It's not for the faint of heart. I was sure I'd want to see this movie several times. But after the first time I never saw it again. It was just too much. But it gave me a real glimpse into what Jesus did for ME. His love for ME. Never has blood been so beautiful.
6. We Were Soldiers
Another Mel Gibson film. I didn't know I was such a fan! The best part about this movie is the first and last scene. Do you want me to tell you? Well, it begins with Mel Gibson stepping out of a helicopter and stepping onto what would be the battlefield. He says something like, "We leave no one behind." The final scene is him stepping back onto the helicopter after fighting the battle. And of course, they left no one behind. It's a moving visual.
7. Man on Fire

Denzel is bad to the bone. He is Dakota Fanning's bodyguard in Mexico City. And once she is kidnapped he goes ballistic. Bad to the bone doesn't even cover it. *shudder* Plus, the Spanish subtitles were cool–they moved around the screen Sesame-Street-like.
8. Mr. & Mrs. Smith
OK, so this doesn't compare to The Passion of the Christ. And it probably wasn't even bloody. But we needed a break from the heaviness. And I know everyone hates this movie becaues it broke up Brad & Jen but I liked it. My favorite part is when they discover that they are both secret agents and Brad Pitt says, "So who was the kindly old gentleman at our wedding?!" Ha!
9. Schindler's List

If you have not seen this movie you are missing out on an incredible experience. It's another World War II story about Oscar Schindler. He "hides" Jews in plain sight by making them work in his factory and being "essential" to the war effort. There is so much reality in this movie. It's sobering.
10. The Matrix

OK. This is not an Oscar-worthy film. It doesn't compare to the above serious films. But I like it. (I did NOT like 2&3, however.) Anyway, I don't even know if there is blood in this movie. You know, since they were computer generated images. But oh man, do they kill a bunch of people. When Neo and Trinity walk into that building and go through the metal detector–they have so many guns on them it is just…awesome. I'm sorry, but it was.
:: :: ::
OK, now that you are sufficiently scared of me, let's get to your Top Ten list! Are you feeling dark and twisted today, too? Or do you have a Top Ten brewing that's a little less sinister? Let's hear it!
Write a post on your blog.
Enter the permalink into the MckLinky below.
Then start blog hopping & leave some comment love.
And don't forget to link to today's Top Ten {Tuesday} post so others can join in the fun!
(for "official rules" click here!)